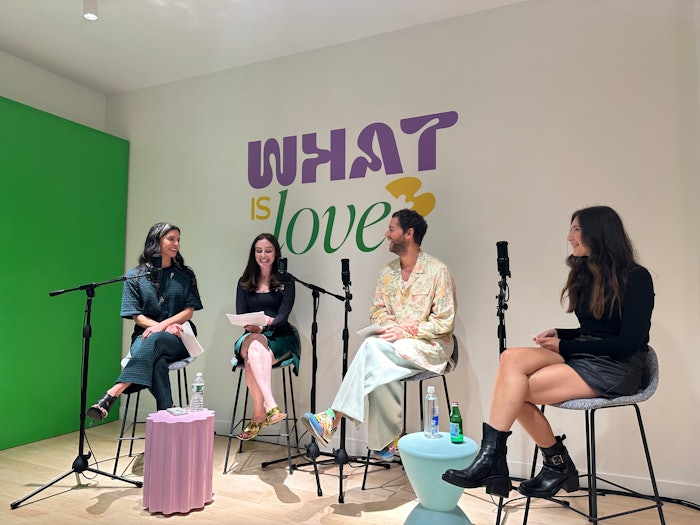 Jenna Troyli
On September 19, 2023, Givaudan hosted the What is Love? event in New York City, designed to translate Gen Z's love and seduction language into olfactive creations to be showcased in an immersive experience. 
The event hosted a live podcast recording with Fat Mascara interviewing Givaudan perfumer Christine Hassan and head of Global Marketing Fine Fragrance, Arnaud Guggenbuhl. Below is a follow-up interview with Hassan discussing their fragrance journey, project wins and which trends are currently exciting the perfumer.
What led you to the fragrance industry?
Christine Hassan [CH]: I was always interested in scents. Whether it was smelling everything in my surroundings, or being particularly excited about the synthesis of benzaldehyde in high school. I knew I wanted to work with smells, but it was only after I completed an internship at Givaudan in college that I learned about this beautiful industry. It's a place where I get to create signature aromas on a daily basis.
What applications do you primarily formulate for? Do you have a favorite?
CH: I am very fortunate to work in a multitude of applications: EDT, candles, soaps, lotions and even lip products! It is so much fun being able to challenge myself in different ways. I don't have a favorite, as I like to play with learnings from one application and use them in unexpected ways in other formats.
Are there any recent projects/wins you're particularly proud of?
CH: Every project I work on is special. Each one has specific challenges and allows me to use my creativity, to grow and to learn. The most meaningful ones are those won as a team. It is heartwarming when each member supports each other and pushes one another above and beyond what we thought we could achieve alone.
Advice for people coming into the perfume field or the best piece of advice you've received?
CH: This was not advice that I received but something that I learned along my own journey. There is more than one way to reach your goals. Always be curious and see every task as an opportunity to learn. This knowledge will be precious down the road and your unique path will be your best asset.
What current trend are you most excited about right now?
CH: Sacred and spiritual themes that lend themselves to cultural history and rituals are fascinating to me. Plus, I'm excited to explore concepts related to the idea of 'Farm to Fragrance'—think playful, yet sophisticated + fresh, garden-led interpretations. I'm also interested in Gen Z's approach to fragrance and how they're expressing the prism of love and seduction olfactively. We've been able to see this in Givaudan's new "What is love?" program, where we've translated Gen Z's desire for authenticity and caring love into never-before-smelled fragrance compositions. This generation is looking for authenticity, and they want to reflect their individuality through fragrance.