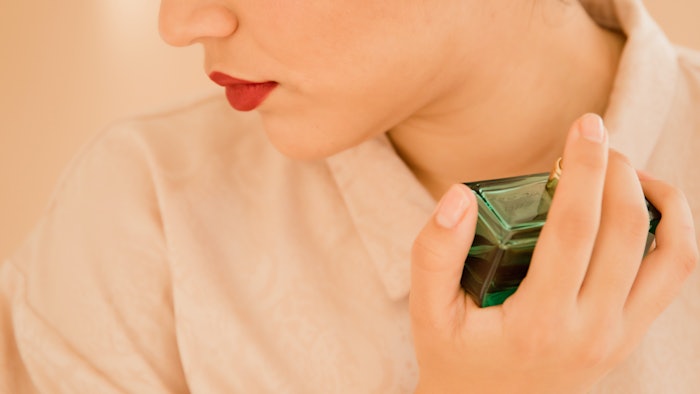 PEXELS
In October 2022, The Fashion Group International awarded Firmenich with the Sustainability Award during its 38th annual Night of Stars gala and awards ceremony. Firmenich's global president, Perfumery, Ilaria Resta accepted award, presented by Deepak Chopra. Perfumer & Flavorist+ connected with Resta to discuss sustainability goals, how sustainability initiatives affect fragrance formulation, current trends and even the DSM x Firmenich merger.
Looking forward, what are some of the long-term sustainability goals for Firmenich?
We are extremely proud at Firmenich of our current status as a sustainability leader within the industry. Our 2022 ESG Report highlighted that we were recognized as one of only two companies that received a fourth consecutive CDP Triple A rating for climate, water, and forests and our ESG Risk Rating Score of 7.5 placed us at the top 1% of 14,000+ companies and rated #1 in our industry. Ecovadis also awarded us a sustainability rating of 88/100 putting us in the Platinum Top 1% out of 90,000+ companies. Most recently, we were also recognized at The Fashion Group International's Annual Night of Stars for our sustainability efforts as well.
Though we have great pride in what we have already achieved on this front, we at Firmenich are constantly striving to improve by setting measurable and concrete targets to achieve greater overall sustainability.
We have gone one step further by integrating sustainable targets in our business division and have an ambitious goal of becoming the #1 in Conscious Perfumery in 2030 by targeting Renewability, Biodegradability, Responsible Sourcing, Carbon Impact and Transparency. The goal is to be able to reduce our carbon and environmental footprint.
We are working towards having our fragrance portfolio be comprised of 99% of ultimately or partially biodegradable ingredients, as defined by the OECD. To achieve this, we have committed to utilizing EcoScent compass* to assess our perfumery portfolio for their environmental impact. EcoScent compass was developed by Firmenich and is the industry's first holistic fragrance sustainability measurement tool that determines a fragrance's sustainability footprint across three criteria: intrinsic green properties, environmental and social impact.
We have also set the ambition to #1 in Renewable Ingredients steering us in the direction of a greener future with circular innovation and investments in renewable and upcycled ingredients.
From your perspective, how will sustainability initiatives affect fragrance formulation?
Consumers are looking to brands to help educate them on the complexities of products so that their purchases have a smaller impact on the environment. This rising awareness calls for brands to adopt sustainable and ethical models that are grounded in environmental responsibility. To adapt to this need, there will be an even greater importance put on data, life cycle analysis, transparency on health, eco and social impact, and carbon emissions, when formulating fragrances.
Because of this expanding consumer demand for more transparency from the beauty sector, a big focus has been put on the traceability of ingredients at each stage of the supply chain to ensure there is ample information on ingredients from farm to final product. To achieve this, we can further improve our responsible sourcing programs with biodiversity and ethical management via Regenerative Agriculture, Living Wage, Projects at Source, Empowerment and Traceability, plus Certifications.
One major answer for preventing the growing strain on nature's resources is biotech ingredients. Obtained by a natural fermentation process, these bio-identical synthetics offer natural-identical, renewable, biodegradable, and cost-efficient solutions. This combination of science and nature will in turn offer additional sustainable paths for new generations of ingredients as well as eco-efficient extraction technologies to be utilized in future fragrance formulations.
What are some of the current trends in fragrance? How are they shaping formulation?
Throughout our experience, a few trends we see at the apex of the industry are:
· Accountability & Transparency: As mentioned previously, consumers are imploring brands to not only formulate products with a stronger focus on sustainability, ensure each claim is backed by data& impact proof, but also educate consumers so they can make clear and conscious choice when purchasing. At Firmenich we have placed an extreme emphasis on our overall sustainability efforts.
· Personalization: We have found consumers are gravitating towards the idea of a "Scent Just for Me" to fully tap into their individuality. This idea of hyper-personalization is being kept top of mind as we utilize new technologies while formulating.
· Physical/Digital Space: A large scale driver that is shifting the fragrance industry globally is rapidly accelerating technology. Increased digitalization has been on the rise, especially in the last two years, catapulting us into a "phygital" future – the combination of physical and digital spaces. Identified in the Future of Fragrance report (further detail below) the macro trend of Programmable Realities – innovations that will turn fragrance into digitally translatable entities – is on the horizon. Through sensorial products and experiences, our sense of smell will be a part of the digital world.
To continue our leadership within this competitive industry, we have partnered with the renowned trend agency LSN Future Laboratory to enhance our internal trend forecasting expertise, allowing us to further explore first-to-market insights. Within our Future of Fragrance report, as mentioned above, we have found that the global drivers of anxiety rebellion, accelerating technologies, evolving demographics, etc. are determining the future of the industry. To maintain the tenets of our company's mission and Positive Perfumery strategy, the macro trends outlined in this report allow us to have an outlook on the future of digitalization, well-being, health and sustainability while formulating.
Any changes or upcoming projects that have come into or will soon come into effect due to the Firmenich x DSM merger? What can partners and customers expect from this merger?
Firmenich and DSM are culturally aligned, purpose-driven companies and this merger will establish DSM-Firmenich as the premier creative and innovation company in nutrition, beauty and well-being.
In addition, this merger will offer significant growth opportunities by the integration of Firmenich's global fragrance and beauty ingredients business with DSM's personal care business. It is hoped that nearly $700 million will be annually invested into Research & Development at 15 global R&D sites, 88 manufacturing sites, 40 creation centers, 78 application labs and 70 premix sites.
*EcoScent compass is a trademark of Firmenich