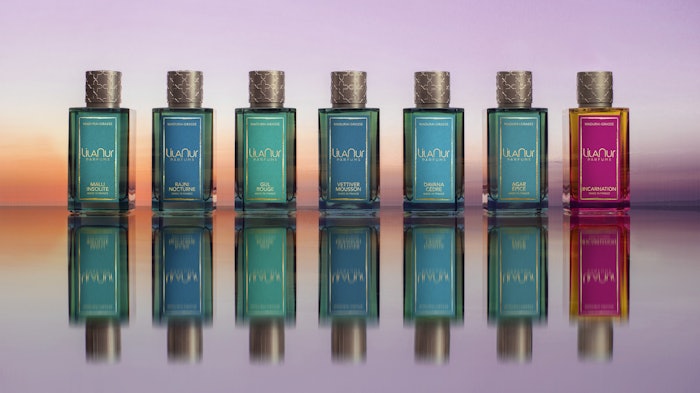 Retrieved LilaNur Parfums press release
LilaNur Parfums has become India's first luxury fragrance house. The brand has released seven eau de parfums and three attar absolus, using India's array of iconic flowers, spices, herbs and woods.
Related: Victoria's Secret Debuts Bare Eau de Parfum
The seven eau de parfums include:
Malli Insolite features notes of jasmine sambac, jasmine grandiflorum, pink pepper, tuberose and mineral.
Rajni Nocturne features notes of tuberose, jasmine grandiflorum, ylang ylang and musk.
Gul Rouge features notes of rose centifolia, rose damascena and honey.
Vettiver Mousson features notes of vetiver, jasmine sambac, ylang ylang and guaiac wood.
Incarnation features notes of jasmine, rose, vetiver, orris, black pepper, patchouli, labdanum and aldehydes.
Agar Épicé features notes of oud, ginger, cypriol, guaiac wood, sandalwood and leather.
Davana Cèdre features notes of davana, cedar, pink pepper, angelique, cassis and musk.
LilaNur is also launching a trio of attar absolus: Jasmin Attar Absolu, Rose Attar Absolu and Tubéreuse Attar Absolu. Attar Absolus are scented oils, made from single-origin floral absolutes steeped in sandalwood oil for over 100 days.
Anita Lal, co-creator of LilaNur Parfums, said, "I've always had a desire to create a modern fragrance line that reflected the true essence of India's majestic flora and to reintroduce the traditions of attars to the world. Each fragrance is an evocation of India. From the jasmine and tuberose fields of Madurai, the spice gardens of Kerala or the forests of Assam, each scent is a vivid olfactory portrait of our diverse and rich land."
Want to know everything going on in flavor & fragrance? Sign up for P&F+'s newsletter. You can also follow along on Instagram and LinkedIn.