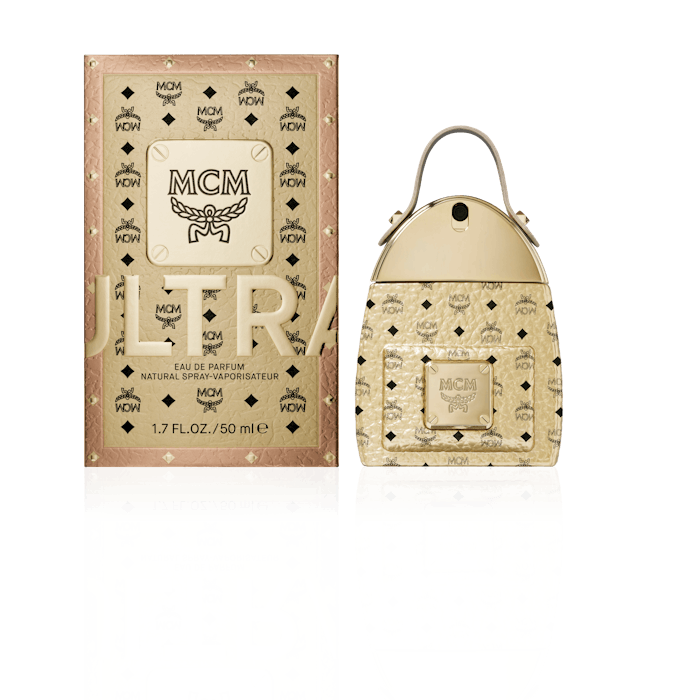 This month the German luxury fashion house MCM unveils its newest fragrance MCM Ultra Eau de Parfum for women. Inspired by the brand's iconic backpack, Ultra features a bold scent profile and glossy packaging.
Related: Inter Parfums, MCM Enter License Agreement
MCM Ultra is designed to invite all women to embrace their own individuality and journey, encouraging the belief that anything is possible. The contemporary fragrance inspires an optimistic attitude and the confidence to live freely and creatively. 
Top Notes: Black currant, pink pepper, Pink Lady Apple, bergamot Italy NaturalsTogether*
Middle Notes: Apricot nectar, tuberose, jasmine sambac 
Base Notes: Cedarwood NaturalsTogether, golden amber, tonka bean, moss
Firmenich perfumer Frank Voelkl was the architect of the scent and commented, "Lush jasmine and tuberose florals are contrasted with fougere elements, like tonka and moss, weaved together with the intention of delicate balance to create an unapologetic, full-of-attitude feminine signature."
MCM Ultra's vegan formula is made with green chemistry principles, 74% of the ingredients are biodegradable and also contains 79% responsibly sourced NaturalsTogether ingredients that make a positive social impact to local communities all over the world. Key ingredients include: 
Pink Pepper: Extracted using one of the industry's most advanced and sustainable extraction technologies, to preserve the natural, spicy freshness of the olfactive profile. 
Tuberose: A special co-extraction of natural and synthetic tuberose elements creates hyper-fresh floralcy in the fragrance. 
Cedarwood: Sustainably collected in partnership with local farmers, it lends the fragrance its dynamic woody facet
Jean Madar, Chairman and CEO, InterParfums, Inc. states, "After the success of MCM Eau de Parfum, we aimed to keep up the momentum with the first-ever fragrance flanker for the brand, MCM ULTRA. The strong partnership between InterParfums and MCM continues to open new horizons and push boundaries to create a new definition of fragrance storytelling for the industry." 
*NaturalsTogether is a trade mark of Firmenich.