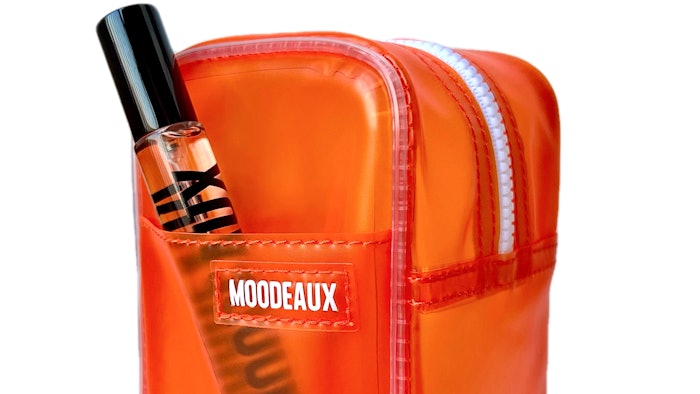 Moodeaux, a Black-owned luxury clean fragrance line, has announced its collaboration with clean beauty retailer, Credo. The launch will mark the retailer's first Black-owned fragrance brand on shelves with an exclusive colorway of the brand's signature Worthy SuperCharged SkinScent Grab-Then-Go Stash Bag Travel Duo.
Related: Female-owned Fragrance Brand Moodeaux Talks Mental Health
The featured product is an iteration of Moodeaux's signature Grab-Then-Go Duo, which consists of a stash bag containing a travel pen of Moodeaux's debut fragrance, Worthy. The bag itself comes in the brand's trademark shade of orange, and the color story will only be available in-store across all 10 U.S. locations and online on Credo's website.
Worthy holds top notes of white tea and orange blossom; middle notes of red rose, lavender and leafy greens; and base notes of dry much, vanilla woods and amber. Moodeaux utilizes an oil-based, alcohol-, dye- and water-free SuperCharged SkinScent formula in all of the brand's fragrances.
Emily Koko, Merchandising Manager for Credo Beauty, says, "The Moodeaux fragrance is truly amazing—it's a very unique scent formulated to work with your skin's chemistry for an almost customized fragrance. I love Brianna's approach to fragrance. She is an incredible woman and whip smart entrepreneur who is bringing greater diversity to the clean fragrance category."
Brianna Arps, founder of Moodeaux, said, "Back in October 2018, I grew pretty obsessed with learning about the connection between scent, emotion and memory. I had just been laid off...was living on New York State unemployment, and given those life lows, I made sure to take a moment every day—between figuring things out—for some serious self-care.
"It might sound silly, but still, I always felt way better after a long, quiet shower followed by a spritz of my favorite accessory, perfume. I didn't even have to get dressed or go anywhere special—the whiff of a familiar smell alone was often enough to remind me that I'm worthy and eventually, I'd be alright."
Want to know everything going on in flavor & fragrance? Sign up for P&F+'s newsletter. You can also follow along on Instagram and LinkedIn.