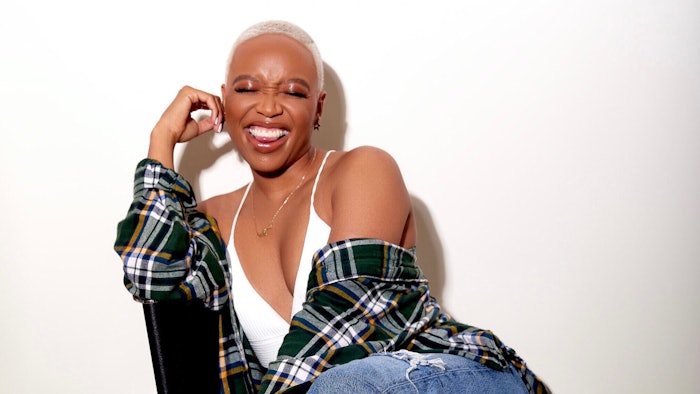 Linking fragrance with self-care and mental well-being has been growing in popularity throughout the industry with the launch of new ingredients, products and even brands. Moodeaux, a female, BIPOC-owned brand, was launched leading with a "combination of skin care, self-love and good smells."
The Moodeaux mantra is to #flaunthowyoufeel, echoing a direct link between smelling good and feeling good. The brand was conceptualized during a very low point in founder Brianna Arps' life when she found it challenging to even leave her bed in the morning.
Moodeaux's signature scent, Worthy, is designed to pull inspiration from the moment between waking up and getting dressed, repeating the affirmation, "I am Worthy. Today. Tomorrow. Always."
Perfumer & Flavorist+ (P&F+) connected with Arps to discuss the brand's mission, the link between fragrance and mental health, sustainable efforts and more.
P&F+: Can you touch on Moodeaux's mission? What was the catalyst in launching this brand?
Brianna Arps [BA]: Designed around the scientific connection between scent and emotional wellbeing, Moodeaux's clean, skin-nourishing fragrances turn to accessorize your mood into a moment of self-care: one-on-one time to "flaunt how you feel." Offering a fresh perspective, lingering accords with mood-boosting properties and unique ingredients that help moisturize as well as lock scent to skin, Moodeaux makes it more meaningful than ever to indulge in the art of perfumery—without alcohol, water or dyes.
Ever since I was a little girl, fragrance has been my favorite accessory to flaunt how I feel. From layering scents at my grandma's vanity to now designing my own for other scent-crazed beauty fanatics, it's kind of surreal to see the ways in which my passion for perfume came full circle with launching Moodeaux. Especially given the fact growing up and while in college, I wasn't interested in becoming an entrepreneur at all. I thought I'd end my career as a journalist—a beauty editor to be exact. But life has a funny way of getting you on the right track, regardless of where you started.
The idea for Moodeaux came to me in October 2018. At that time, I grew obsessed with learning about our sense of smell's ability to influence our moods. I was also recently unemployed after being laid off from my "dream job" and heavily reliant on self-care to stay sane. It might sound silly, but I always felt way better after a long, meditative shower followed by a spritz or two of fragrance. I didn't even have to get dressed or go anywhere special, the whiff of a familiar smell was often enough to remind me that I'm worthy no matter what and that eventually, I'd be alright. Digging around online, I quickly noticed a lack of mainstream Black-owned perfume labels, not to mention the prevalence of brands that were talking about the scientific connection between scent, emotion and memory. Despite not knowing much, I decided to pave a new lane and create something different.
Today, Moodeaux makes it more meaningful than ever to indulge in the art of perfumery—without alcohol, water or dyes. Instead, through our debut SuperCharged SkinScent formula, we're excited about developing luxury fragrances with unique accords, plus clean ingredients that help moisturize and lock scent to skin. Looking back on my journey, although a wild one, to say the least, I wouldn't change a thing.
P&F+: From your perspective, what is the importance of the connection and distinction between skin care/fragrance and mental health?
BA: Studies show there's an intrinsic connection between our sense of smell and its ability to influence our moods by triggering good thoughts/memories. From a wellness/mental health perspective, we've seen this at play through aromatherapy. At Moodeaux, we've found value in designing fragrances with ingredients and accords that mirror and promote the same principles. 
P&F+: With the heightened focus on sustainability in F&F, could you touch on the importance of sustainable practices at  Moodeaux?
BA: Knowing a growing portion of society (including myself) prioritizes sustainable beauty brands/products over others, I understood in order to resonate with target customers, we couldn't ignore or dismiss how our operation would affect the environment. As a brand, we've developed a "waste-less" mindset that keeps us excited about helping make the beauty industry better by making better beauty—which for us means a few different things. First, our debut SuperCharged SkinScent formula swaps out water with plant oils that double as skin care. Second, we've opted against highly decorative primary and secondary packaging, a risk given the prevalence and attention-grabbing nature of the opposite on shelves today. Third, with tertiary packaging, we're proud to partner with suppliers who share the same vision and use FSC-certified, recyclable, plant-based and/or compostable materials. Overall, I believe every decision—regardless of how small it may seem—will have a big, lasting impact.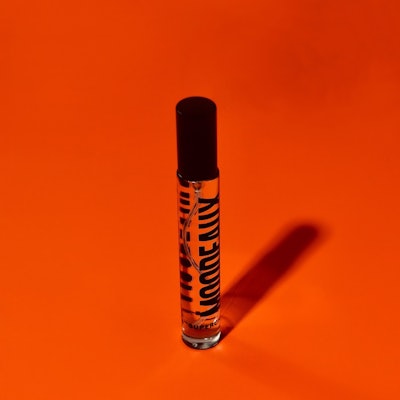 P&F+: When you consider and source fragrance materials/ingredients for your products, what are the criteria for the materials and suppliers to ensure they align with your mission?
BA: Moodeaux is clean, vegan, cruelty-free and working towards obtaining all of the necessary certifications to build our reputation. In the meantime, all of our raw materials suppliers are required to adhere to these policies and upload the same values—all while maintaining strict industry standards set forth by major regulatory bodies. This includes the International Fragrance Association, the Research Institute of Fragrance Materials, the Natural Products Association, the Society of Cosmetic Chemists, the Non-GMO Project, etc.
P&F+: Could you discuss the selection of scents in your products and how they correlate with your mission of self-love and well-being?
BA: When ideating our signature scent, at first, I selfishly created what I wanted to wear to help me self-care. However, upon pouring over dozens of product reviews—in addition to conducting a blind survey—I realized "Worthy" is a lot like what others were interested in smelling like as well. The notes are very particular and intentional:
White Tea: I'm obsessed with tea; a nice warm cup is always a super calming way to end busy days.
Orange Blossom: Citrus fruits are known to have powerful effects on our mental health. According to aromatherapists, their fresh and uplifting smell comes from the chemical component, d-limonene, which studies suggest supports the part of the nervous system that's responsible for relaxation. In turn, many also believe the component can help decrease stress.
Red Rose: Roses, especially red ones, represent love to many including myself. They give off a familiar scent that reminds me of that connection. 
Lavender: Lavender oil has long been used within aromatherapy as a way to calm the nerves. Newer research suggests that its main chemical compound, linalool, can help lessen anxiety by stimulating the nose to pass signals to the brain.
Dry Musk: It's an "earthy," "raw" smell that pairs well with skin/natural pheromones.
Vanilla Woods & Amber: To me, this blend wraps the senses in a cozy blanket while giving Worthy some sex appeal. Overall, I wanted Worthy to smell and feel like a big hug to yourself, to whoever wears it. As a warm, citrus-floral-woodsy scent, it combines accords that wrap the senses in a "cozy blanket" while also giving off some major sex appeal.
P&F+: What does the future look like for MOODEAUX? What's on the horizon?
BA: Moodeaux aims to be a one-stop shop for all your luxury fragrance needs—from perfume to home scents and practically everything in between. I really enjoy the "dynamic of duality" that our debut SuperCharged SkinScent offers: it's not just fragrance, it's not just skin care. Everything we design and launch in the future will be just as unique.
Want to know everything going on in flavor & fragrance? Sign up for P&F+'s newsletter. You can also follow along on Instagram and LinkedIn.