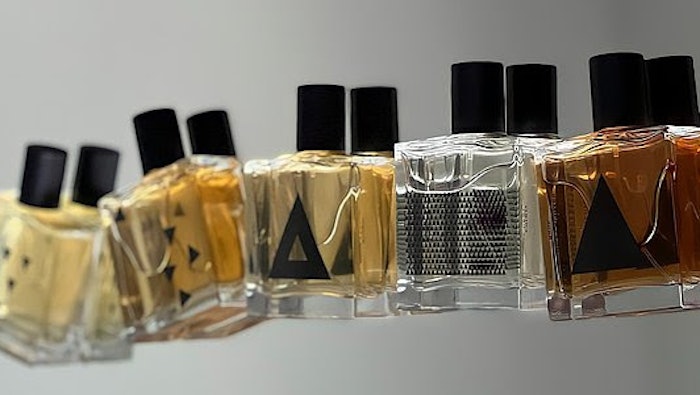 Rook Perfumes is a range of perfumes created by Nadeem Crowe, M.D., an NHS emergency doctor and actor. The brand is unique for its Rook Scent Experiments of blind fragrance testing and for creating the first NFT fragrance, The Scent of the Metaverse.
Related: Bustle's Top Fragrances Launching in 2022
Rook Perfumes runs its Rook Scent Experiment every few months. The brand introduces a new scent with no story or notes attached to it. Consumers can create the story for themselves or on social media. Another experiment the brand conducts is providing a stimulus to its audience, such as an image, and asks its community what notes they associate with it. Crowe then tries to create a scent based on the feedback.
"Often people read the spiel about a perfume and then feel disappointed that what there are smelling has no resemblance to the story," Crowe said in a press release. "Our most popular scent from the experiments is definitely Flaming Dandelion—a scent inspired by a photograph taken by photographer, Rankin, of a dandelion in various stages of combustion."
Rook Perfumes' NFT image, The Scent of the Metaverse, is not a physical product, but instead, a digital ticket that provides access to a private perfumery group hosted by Rook Perfumes. The group then worked to create a scent that is available in a limited batch of 100 bottles. The scent features notes of white smoke, circuitry, rose and incense. It is currently available on Rook Perfumes' official website.
Crowe said, "The world of NFTs is something I found intriguing but very difficult to understand. It felt to me people were selling a notion rather than anything of any substance and that everyone became a digital artist overnight. The concept of crowdfunding to create a perfume is something that is not new to me and so we decided to take a different approach to the NFT world."
Rook Perfumes' fragrance collection includes five eau de parfums, Suede, Amber, Undergrowth, Forest and its signature scent, Rook.
Suede is a musky smokey fragrance with top notes of suede, middle notes of tobacco and base notes of leather.
Amber is a woody amber fragrance with top notes of Persian saffron and smoke, middle notes of Somalian incense, amber and maple and base notes hold black musk, South American tonka, benzoin and resin.
Undergrowth is a green, earthy fragrance with top notes of soil, garden mist and grass; middle notes of green, mandarin and orris and base notes of Haitian vetiver, Indonesian patchouli, petrichor and white musk.
Forest is a woody aromatic fragrance with top notes of French cypress and pine needle, middle notes of black pepper, elemi Iran and green notes and base notes hold Indonesian patchouli, Virginian cedar and white musk.
Rook is a smoky amber fragrance with top notes of birch tar and tobacco, middle notes of castoreum, Indian cardamom, ginger, civet and oud and base notes hold incense, ambrette, ambergris, guaiac wood and musk.
Want to know everything going on in flavor & fragrance? Sign up for P&F+'s newsletter. You can also follow along on Instagram and LinkedIn.