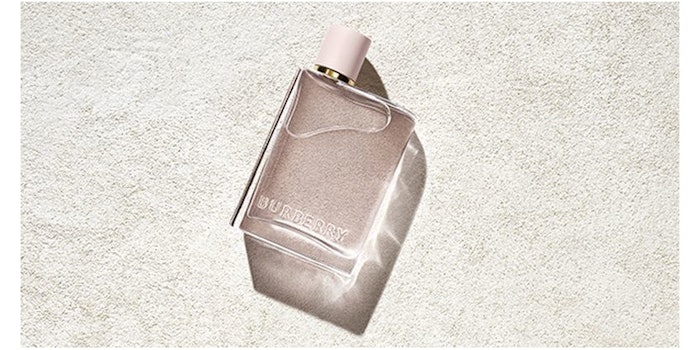 Luxury brand Burberry has released its latest fragrance, Burberry Her, which will be available starting in October 2018 on the brand's website and select Burberry boutiques.  
Created by perfumer Francis Kurkdjian, Her eau de parfum is a fruity and floral fragrance that features top notes of red and dark berries, blackcurrant, blueberry and raspberry; heart notes of jasmine and violet; and base notes of dry amber and musk. In addition to being released as an eau de parfum, the scent will also be available in a body lotion, shower gel and perfumed deodorant.
"Her eau de parfum by Burberry is unique because it is a memorable signature. To achieve that, you need a strong accord, an olfactive story that translates your vision. The combination of these sunburst berries and British spirit blended with the ambery musky accord brings this very unique signature. You can immediately recognize when someone is wearing it. It's a signature scent," said Kurkdjian.