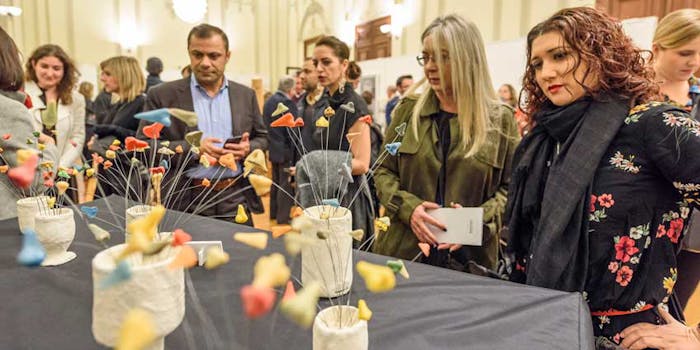 Iberchem has partnered with contemporary artist Nasevo, also known as the perfumer Ernesto Ventós for a multisensorial exhibition titled, "Nasevo, The Man Who Confounds Colours And Odours."
The exhibition was presented at the Royal Casino of Murcia, Spain. Previously, it has appeared in Barcelona and during the 2016 World Perfumery Congress. Nasevo's 10 artworks were paired with original fragrances developed by Iberchem perfumers to enhance both the visual and olfactory experiences of attendees.
"Murcia was a must on the itinerary of the exhibition," said Nasevo. "There is a direct relationship with the natural environment of this city and several of the pieces: The Orchards, The Smell of Orange Blossoms and The Sea to name a few. In addition, it is the first time that we combine the artworks with fragrances. The exhibition that we presented in Murcia proposes a complete experience, both visual and olfactive."
"It is much more than an art exhibition," added Guillaume Audy, corporate communication manager, Iberchem. "It is a multi-sensorial experience for which our perfumers have developed unique fragrances inspired by the shapes, colors and textures of the artworks. From the ozonic smell of a cloud to the one of the room pictured in The Meninas by Diego Velazquez, their creations truly add another dimension to each piece."
"Art is subjective, and there are so many ways to interpret it," explained Encarni Lorente, perfumer, Iberchem. "For instance, many people associate the color red with fruity notes. On my end, I would definitely pair it with floral notes."