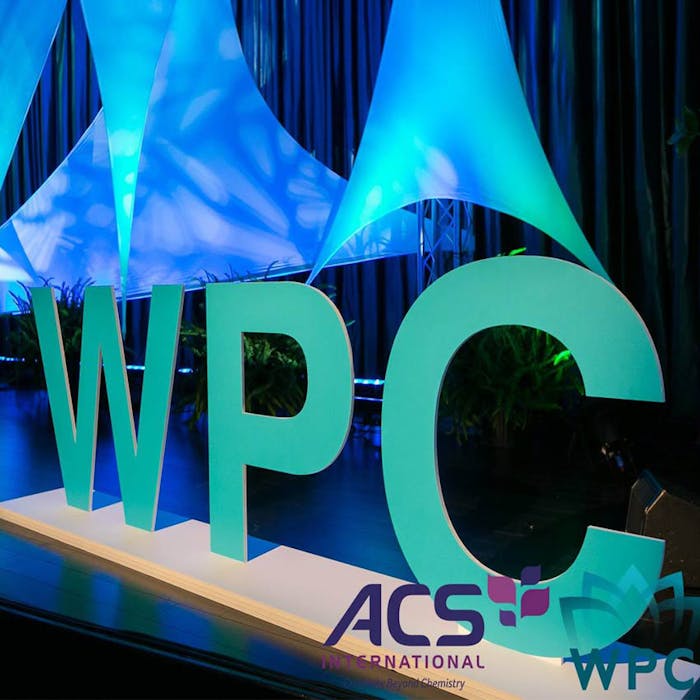 *Editor's Note: To view the entire album of WPC photos, visit Perfumer & Flavorist's Facebook page. Feel free to download and share with friends and colleagues.
Welcome to the global conversation about the future of fragrance. Along with the smell of the warm, salty sea air, Miami Beach wafted in an international mixture of aromatics at this year's World Perfumery Congress (WPC) at the beautiful Fontainebleau Resort on June 13-15.
For three days, Perfumer & Flavorist and the American Society of Perfumers hosted more than 1,100 attendees, including perfumers, thought leaders and suppliers from all over the world to explore the fragrance industry under the theme "Scents and Sustainability: A Responsible Future for Fragrance."
The theme covered a variety of lectures on the latest technological and ingredient innovations, sustainability breakthroughs and fragrance creativity. The exhibit hall provided a lucrative opportunity for suppliers to showcase raw materials and interact with customers. With creativity at the root of perfumery, many of the booths were pop-up sensory feasts filled with olfactory art and even a virtual-reality tour of lavender fields!
The Nature of Science and Sustainability
"Why is this year's event so critical?" Jeb Gleason-Allured, editor-in-chief, Perfumer & Flavorist and Global Cosmetic Industry magazines and WPC program director, asked attendees in the opening lecture. "Because beyond the spell-bounding olfactory moments that linger in consumers' minds, scent is integral to brand DNA, differentiation and the overall consumer experience—and fragrance is a critical sustainability opportunity for product developers and marketers."
Christopher Diienno, president, American Society of Perfumers, remarked on the importance of combining art, science and educational initiatives toward driving the industry forward in the name of sustainability and innovation. "Developing a forum of esteemed perfumers and fragrance industry professionals and executive management allows us to discuss the very essentials of what is necessary to both sustain our industry and reinvigorate it," he said.
Diversifying Sources
The first round of presentations featured a series of lectures on fragrance sustainability strategies as well as novel findings in white flower research for perfumery.
Andrea Alvares, vice present of marketing, Natura, kicked off the presentations with examples of how the Brazilian company is integrating sustainable innovations into its present and future growth. One area of significant effort is developing certifications with the Union for Ethical BioTrade (UEBT) to sustainably and ethically source ingredients through partnerships with local communities.
The rich biodiversity of the Amazon jungle also plays an integral role in sourcing for Natura, who partnered together with Symrise in 2014 to open the Ecoparque supply center in Benevides in the state of Pará. The relationship between nature, science and communities is symbiotic, explained Achim Daub, global president scent and care, Symrise AG.
Through the concept of a circular economy, where products can be reproduced without waste or pollution while contributing nutrients to the biosphere, environmental preservation can continue to evolve in areas prone to volatile production means, such as the vanilla industry in Madagascar.
The Language of Botanicals
"[Jasmin sambac], while a beautiful product, useable in perfumery…you start to understand this is how nature has presented [the botanical] to us," explained Felix Buccellato, founder and perfumer, Custom Essence Inc. to Perfumer & Flavorist magazine.
During his presentation, Buccellato asked us the question, "Why does the absolute smell so different from the flower?" Using a direct methylene chloride extraction of blossoms, his research found previously unidentified components in the flower to aid in interesting and novel compositions for perfumery.
Significant floral notes include indole, methyl anthranilate, dimethyl anthranilate, as well as 17% hexenyl benzoate cis 3. The blossoms also exhibited fruity green characteristics comprised of hexenyl benzonate cis 3, methyl anthranilate, hexenyl butyrate cis 3, hecenyl acetate cis 3, hexenyl 2-methylbutyrate cis 3 and benzyl acetate. Animalic, spice notes were also present in the findings: various phenols, eugenol, para cresol and vinyl guaiacol. Creamy notes include jasmin lactone, methyl jasmonate, vanillin and even veltol. One of the most significant revelations of Buccellato's research indicate major component differences between sambac extract and commercial sambac indicating the importance of trace ingredients to create a similar profile in a fragrance composition.
Jasmine, along with tuberose, magnolia, frangipani and orange blossom are among several white flowers in perfumery, explained Andrea Frances, sales and R&D, Nobs Naturals. One white flower of interest is the coffee flower, which offers a deep balsamic undertone and floral notes of mimosa, narcissus and beeswax. Additionally, the self-fertilizing flower is widely available in coffee farms located in El Salvadore (approximately 152,000 hectares) as a side production of coffee beans. The harvest produces 350kg of flowers per 1 ha, offering a sustainable option for perfumery as labor tends to remain stable and offers farmers additional income when coffee prices are low; although because the plants are cut by hand, human labor is the most expensive aspect of production.
A hexane extraction produces a 0.3% concrete yield; whereas absolutes produce less than 60% through frozen alcohol extraction. Using a SPME GC/MS, coffee blossom exhibits notes of benzyl alcohol, nerol, geraniol and linalool. Coffee blossom offers lucrative potential for the future in perfumery through responsible harvest practices benefitting farmers while providing a unique accord in formulations.
Introducing the biological track of the conference, Xavier Ormancey, research and innovation chief officer, Yves Rocher, discussed plant communication techniques through fragrance in nature.
There are two ways to attract pollinators, Ormancey explained, through color and fragrance. Botanical languages are comprised of a combination of molecules, emitting volatiles to either attract prey or repulse predators. In the case of the Datura plant and the bee, the plant emits narcotic molecules as a hypnotic potion for the bee that essentially pledges its allegiance to its nectar and the nectar of similar species. After swimming in a plant's nectar, the bee becomes the perfumer, producing wax when attached to another plant—nature's enfleurage—and perhaps inspiration for the perfumer in the lab.
How Do You Define Sustainability?
"Sustainability is beyond environmental transparency," said Jason Kelly, CEO and co-founder, Ginkgo Bioworks during the afternoon's panel discussion. Kelly was joined by Hervé Fretay, global director of naturals, fragrance division, Givaudan, Torsten Kulke, senior vice president global innovation and regulatory fragrance, Symrise and Mike Popplewell, vice president, corporate R&D, International Flavors & Fragrances (IFF).
"How do you define sustainability?" asked Kulke, who led the panel. "Sustainability is a reality," Popplewell explained. "Businesses must adapt to it [as] it is an opportunity for R&D in catalysis and renewables."
In response to the industry's growing regulations and challenges in transparency and ingredient labeling, Kelly added, "We're starting to see consumers wanting to understand how products are made. [Sustainability] falls under a larger consumer awareness."
So who is driving who? The consumer or the industry? "Both," Fretay replied, "It's true that consumers come from their own angle, and we come from a supplier angle. We come together from two sides, between customers and suppliers, to connect, talk and, together, build and grow sustainability."
Sustainability is a circular, rather than a linear, system, Popplewell explained. Included in that circle is consumer education, added Kelly: "There's an opportunity to employ new technologies that are now available, but we have to educate about [them to explain] what is possible."
Transparency, Trust and Truth
How can fragrance play a larger role in enhancing credibility and sustainability, while driving new products? As Kate Williams, creative perfumer, Seven Scents, explained in her presentation a few days later, emotion plays a significant role on consumer choice. "We all know what an impact fragrance has on purchase intent and acceptability," said Popplewell, "Because fragrance has an emotional impact."
One example is in hygiene in emerging markets, Fretay explained. "Fragrance can signal to consumers to clean or wash their hands. We can be ahead of the game using fragrance to play a role." In terms of health and wellness, "fragrance can be used to interpret products as having 'wellness qualities,'" said Kelly.
In terms of environmental wellness, Kelly discussed how his company is researching the revival of endangered plants. "We've sampled flowers going extinct and looked at their genetic sequence. We can then re-create this sequence—so it's creativity leading to sustainability," he added.
In terms of creativity, innovation and sustainability, what are the biggest opportunities? Growth stems from clear communication from the industry to the consumers, explained Popplewell. This includes stressing the three t's: transparency, truth and trust, toward consumers added Fretay.
But sustainability also entails cooperation between companies and coming together to define its meaning. Martina Recchiuti, the incoming president of the International Fragrance Association (IFRA) Italia, directed her comments towards the panel during audience questions. "Sustainability is here to stay," she said, "but there are more than 100 definitions of it out there, and only one definition for 'sustainable development.' [I think we] need to stand up as an industry sector and define it. We need to communicate from the inside out."
Both Kulke and Popplewell agreed. "It's a strategic shift," said Popplewell. "I think you've put your finger on an important concept. We were driven by regulators but now we're consumer-driven. And if we can't come together, it will cause confusion."
A productive panel discussion, which leads to the question: Can regulators and consumers come together to create a more concrete definition of sustainable development?
Day Two: Assessing Sustainability
The industry is more consumer-facing than ever. Sustainable practices with low environmental footprints, renewable resources and transparent labeling are among the biggest challenges for suppliers and brands. But it's also an opportunity for creativity and innovation in formulations. Yet, how do we know that a fragrance is sustainable?
"No method exists to clearly prove that a fragrance is sustainable," explained Tony Phan, process and project engineer, MANE. When designing a green fragrance, raw material origin (renewability, traceability) and environmental impact (toxicity, biodegradability) can be accounted for—but what about the method?
MANE has worked on a variety of green processes, including steam distillation, clean solvent extraction and microbiological processes. Using the twelve principles of green chemistry, MANE developed Green Motiona, a green assessment process that quantitatively rates green chemistry between 1-100.
Available to both chemists and perfumers, this quantitative method has been used to assess more than 1,000 ingredients, potentially creating a green database, explained Phan. You can read more about Green Motion in the June 2016 issue of Perfumer & Flavorist magazine.
Responsibly Sourcing Oud
As one of the world's most rare and expensive (up to $100,000 USD/kg) aromatic resins, oud certainly finds its place in sustainable sourcing. Oud is the most valuable odorant in wood, explained Estelle Delort, senior scientist, analytical innovation, Firmenich. Found in the heartwood of four different types of infected Aquilaria species, it is a long-lasting woody accord and exhibits leathery/animal characters and tobacco and incense-like notes.
The odorant resin is formed inside of the trunk and thought to be caused by external wounding and/or a fungal infection. Native to South East Asia, oud is widely used in the Middle East, Japan, Taiwan, Hong Kong and China in wood, wood chips, powder, oil or extract forms.
Due to illegal harvesting and adulteration, ensuring a sustainable approach for oud harvest is essential for the industry, Delort explained. Studies have shown that oud formation occurs by inducing stress through wounding, small molecule elicitors or infection. Volatile compounds are formed as result. By understanding how the resin is formed, researchers can sustainably produce high quality ingredients with various olfactive profiles, said Delort.
Using GC/MS analysis and acid-based extraction, Delort explained that more than 100 compounds were present, including over 30 sesquiterpenoids, 24 acids, 27 phenols, five ketones, three esters, three oxazoles, two sulfur compounds, two aldehydes, one alcohol and one lactone.
Take all of these compounds together, and Firmenich has created a new captive ingredient similar to the olfactory profile of oud. The captive exhibits an intensely woody and animalic odor profile and boosts the warmness in oud compositions. Various applications include fine fragrance, skin care, hair care and air care.
Where Did All the Naturals Go?
One of the fastest-growing areas of the fragrance industry is niche perfumery. These fragrances are recognized for rare and exotic natural ingredients. An important concern for the industry is keeping up with a sustainable supply chain for natural essential oils. In his presentation, Rob Brown, president, The Lebermuth Company asked the question, "Where did all the naturals go?"
"The essential oil industry is growing," Brown explained, "but growth has also left the industry struggling to keep up." These factors, along with transparent labeling and wellness, including the volatile citrus oil market from citrus greening and climate change are challenges the industry faces in addressing sustainable sourcing of naturals.
Alternative approaches, such as Fair Trade and organic initiatives, create greater demand for naturals. As consumers become educated on the benefits of naturals, the industry expands. For example, eugenol's use extends to an agricultural pesticide, cedar leaf can be used for skin tags and nepatalactone in Catnip as mosquito repellant among others. "This range of use is causing an increase in supply and demand," explained Brown, "yet customers expect prices to stay the same or lower."
Emerging markets, including China and India, offer a new twist to the supply of the once-stable clove leaf, citronella, cinnamon leaf, orange and eucalyptus oils. Prior to the high demand of naturals, fragrances contained an abundance of 40% essential oils at one point. What does this mean for today and tomorrow's market?
Implementing new innovations, such as biocatalytics, soilless farming, aquaponics, fermentation and genetic engineering provide viable alternative methods to prevent the dwindling of natural resources, concluded Brown.
Opportunities in Fragrance
Garry Dix, regulatory expert, CPL Aromas, discussed his research on highlighting viable career opportunities in fragrance for the visually impaired (VI). Smelling is a prized asset in the fragrance industry, Dix explained. When one sense is impaired or limited, other senses are often heightened. The study on blind and VI individuals in the U.K. and India showed that olfactory acuity is heightened compared to non-blind individuals.
The results of the two studies showed a passing rate of 23.7% of VI individuals in India indicated olfactory acuity versus 11.3% in the control. Similarly in the U.K., VI individuals showed a passing rate of 60% versus 29% in the control.
This is remarkable news for both VI individuals and the fragrance industry as it creates a viable career path for potential fragrance employees, and employers benefit from hiring employees with enhanced smelling abilities—and the industry is listening! The College of Fragrance for the Visually Impaired (COFVI) in Mumbai is in its third year of offering perfumery courses catered to blind and VI individuals. According to the school's statistics, 70% of graduates are employed in India's fragrance industry with positions in evaluation, quality control, perfumery and independent consulting.
"If there exists a group of people whose noses are three and a half times more accurate than the average person," Dix concluded, "wouldn't you want those people working for you?"
Linking Body Odor With Fragrance
"Are they choosing based on masking what their body smells like or are they choosing based on the fact they want to advertise what their body smells like. It's all about mates and sex and attracting potential partners. We know that's in there because we are animals and we have body odors. How can we discover more about that?" Williams explained in an exclusive interview with Perfumer & Flavorist magazine (to view the full video, visit www.perfumerflavorist.com/videos).
In conjunction with Stirling University, Williams and a team of researchers studied the perceptual qualities of body odor and their interactions with fragrance to influence consumer choice. Body odor differs from person to person based on biological factors, such as immune function, and studies have shown that different odors are detectable by others.
Which asks the question, are we using fragrance to enhance our odor rather than mask it? Based off of the Williams/Stirling University research, people choose fragrances which accompany their natural scents. "Our fragrance choice then is more complex than masking odors," explained Williams. "Perhaps we subconsciously choose fragrance based on our own odor."
How can this information improve formulation? By classifying body odor into categories, fragrances can be designed to target each profile, including accounting for men's, women's and unisex products.
Furthermore, how can body odor—through the emission of pheromones—play a role in fragrance development? Gustavo de Campos Dieamant, scientific and technological research manager, Boticario Group, discussed the company's forays into pheromone stimulation through pheromone-based technology (PBT). Using active plant technology, studies have found that fragrances with PBT stimulated physiological responses in both men and women. What does this mean for fragrance formulation? As mentioned in Williams' research, by creating pheromone categories, formulators can target consumers—who are driven by personalized products—more closely to create fragrances that enhance their everyday lives on a more personal level.
Fixatives of Top Notes
Taking a cue from our fellow Brazilian consumers whose love of fragrance reflects in multiple applications per day, Boticário Group's Tiago Martinello, research and development manager, discussed the importance of fixatives in perfume. How can we create technologies that slow down the rate of evaporation in raw material volatiles? In other words, how do we make fragrances last longer?
To date, Brazil's beauty and personal care market is worth USD $56 billion, making it the second largest fragrance market in the world. Brazil's consumer links long-lasting fragrances with quality and attractive packaging, explained Martinello. Studying the Brazilian consumer gives us an opportunity to understand the significance of creating lasting fragrances in products.
The current scope of fixative routes are limiting in cost, process or both. There are natural (musk) and synthetic (galaxolide) olfactive molecules, which can interfere with the other components. Using glycerin, emollients (oils/esthers) and polymers (acrylic acid derivatives) can trap fragrances. Though enzyme, hydrolisers and heat/light oxidation can trigger-release fragrances, the proprietary technology is costly. Capsules, such as nanocapsules and microcapsules, offer gradual release of top notes; however, the delivery systems require tailoring for each formula—not a cost effective method for mass fragrances.
One interesting area was the relevance Brazilian consumers placed on color in quality perception. The study noted that dark yellow and amber colored fragrances are perceived to have long lasting qualities; whereas, citrus and red colored perfumers were considered to be more volatile.
How can Brazil's market influence the global industry to create fixatives that are functional without altering the properties of the fragrance, as well as produced cost effectively? The plot thickens.
Giving Fragrance a Multi-Purpose
On the final day, Rachel Grabenhofer, scientific acquisitions editor, Perfumer & Flavorist, led a panel discussion with industry leaders on the partnership between cosmetic actives and fragrance. She was joined on stage with Antonio Lara, president and CEO, Lucas Meyer Cosmetics-International Flavors and Fragrances, Inc. (LMC-IFF), Frédérique Lafosse, head of active beauty at Givaudan and Eder Leopoldo Ramos, global president of cosmetic ingredients, Symrise AG.
The past couple of years has shown a flurry of activity from fragrance houses tapping into the cosmetic actives market through a series of acquisitions. As consumers demand multi-functional products, it also provides an opportunity for companies to create differentiating innovations and diverse products.
"Fragrance is about that immediate effect…it's a matter of perception or emotion…Cosmetics are about performance. Its perception is about visible results over time and scientific proof." Lafosse explained.
One major link between the two sectors is sustainability and perhaps both industries can merge together in ways that create mutual innovations. "Fragrance is known for being a waste-user industry," said Lara. "We might be able to take waste from cosmetics and use it as a raw material for fragrance."
You can read an extended version of this panel discussion in the article "Creating a Partnership Between Fragrance and Cosmetic Actives" on PerfumerFlavorist.com.
What's Next?
As we prepare for the 2018 WPC in Nice, France at Palais des Congrès Nice Acropolis on June 5-7, 2018, it is with great anticipation that the industry continues to work together to drive innovation, sustainability and creation all for the same reason: the love of fragrance.