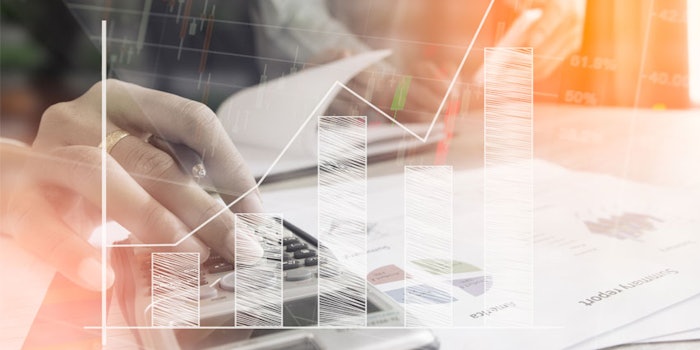 Inter Parfums, Inc. has announced its third-quarter results, ending September 30, 2021.
Related: Inter Parfums Completes Acquisition of Salvatore Ferragamo Fragrance
For the first nine months of 2021, net sales rose 25% to $669 million from $536 million in the same period of 2019. Year-to-date net income attributable to Inter Parfums, Inc. rose 70% to $89 million compared to 2019's $52 million. For the nine months ended September 30, 2021 and 2019, diluted earnings per share were $2.79 and $1.64, respectively, for an increase of 70%.
The company's regular quarterly cash dividend of $0.25 per share will be paid on December 31, 2021 to shareholders of record on December 15, 2021.
Jean Madar, chairman and CEO of Inter Parfums, Inc., said, "As we reported last month, our largest brands, notably Montblanc, Jimmy Choo, Coach, GUESS and Lanvin, performed exceptionally well in the current third quarter, turning in gains of 26%, 40%, 98%, 27%, and 37%, respectively, as compared to 2019's third quarter. Year-to-date, these brands generated sales increases of 11%, 39%, 56%, 44% and 12%, respectively, versus the first nine months of 2019."
Discussing year-to-date growth in the company's major markets, Madar stated, "North America, our largest market, leads the way with sales up 140% and 67% compared to the same period in 2020 and 2019, respectively. Gains were also achieved in Western Europe, where sales rose 38% and 6% from the first nine months of 2020 and 2019, respectively. Thus far this year, sales in Asia are running 72% and 10% ahead of 2020 and 2019. Other markets, including the Middle East, Central and South America and Eastern Europe, achieved substantial sales gains over 2020 and only the Middle East did not surpass 2019 sales levels."
On the subject of plans for 2022, Madar continued, "In the coming year, an extensive new product pipeline is in the works. Our debuting scents for Moncler, Moncler Pour Homme and Moncler Pour Femme will roll out in early 2022 to thousands of doors, accompanied by a full-scale advertising and promotional campaign. We've recently previewed the scents in several hundred doors and the sell-through has been overwhelmingly positive. New men's fragrance pillars are debuting for Coach, GUESS and Boucheron."
Russell Greenberg, executive vice president and CFO, said, "Since sales exceeded expectations throughout 2021, our year-to-date promotion and advertising expense included in selling, general and administrative only aggregated 14.2% of net sales, well below 17.3% in 2019. This enabled us to achieve a year-to-date operating margin of nearly 24%."
Greenberg continued, "The holiday season started earlier this year as our customers placed much of their requirements for delivery in the third rather than the fourth quarter to lessen the effect of supply chain issues. As previously reported, for the full year, we have budgeted 21% of net sales for promotion and advertising expense, or approximately $170.1 million based upon on current guidance, implying $95 million in the fourth quarter. The big push in promotion and advertising is now underway and will continue throughout the fourth quarter with major campaigns throughout the world to support retail sell-through during the holiday season for our leading brands and recent product launches. By making this monumental investment in advertising and promotion encompassing print and broadcast media as well as online advertising and billboards, we expect large scale reorders in the coming year accompanied by a significant gain in market share. As a reminder, we expect 2021 net sales of approximately $810 million, resulting in diluted net income per share of $2.35. Guidance assumes that the average dollar/euro average exchange rate remains at current levels and there is no significant resurgence of the COVID-19 pandemic. We are planning to release initial 2022 guidance later this month."
Greenberg finished, "We closed the third quarter with working capital of $491 million, including approximately $324 million in cash, cash equivalents and short-term investments, and a working capital ratio of 3.3 to 1. The $126.6 million of long-term debt relates to the Interparfums SA headquarters acquisition, which was financed by a 10-year €120 million (approximately $139 million) bank loan. Cash provided by operating activities aggregated $101.3 million for the nine months ended September 30, 2021, as compared to cash used in operating activities of $20.2 million for the corresponding period of the prior year."
Want to know everything going on in flavor & fragrance? Sign up for P&F+'s newsletter. You can also follow along on Instagram and LinkedIn.