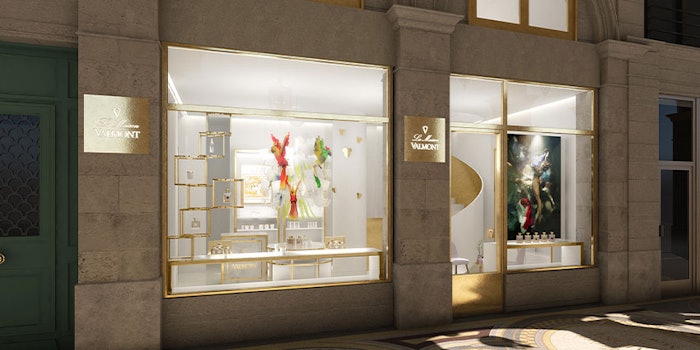 In September 2020, La Maison Valmont will open its Parisian flagship store at Le Meurice. Nestled on the rue de Castiglione in Le Meurice, the 52 sqm boutique will be Valmont's Parisian flagship—the space, designed by its president, Didier Guillon, will feature the group's cosmetics and fine fragrances created by Sophie Vann-Guillon.
This natural collaboration is the result of an established, long-term relationship between the cosmetics brand and palace hotel. The association of these two institutions goes beyond a simple partnership—it began in 2007 when Valmont was elected by Le Meurice as the luxury cosmetics expert for its spa.      
The two institutions soon discovered how their respective cultures and DNA led them to become exclusive partners.
From September, Parisians and international customers at La Maison Valmont will be greeted and guided throughout their visit, yet free to browse with no constraint. The boutique benefits from an independent entrance that will guide guests directly to the Spa Valmont pour Le Meurice. Every service will be dedicated to their well-being.       
As a tribute to this new Parisian venture, Valmont president Didier Guillon stated his ambitions for the new space: "Like a prestigious family house, we call it La Maison Valmont in French. This new flagship store will bring together the existing elements of our Swiss heritage, outstanding service, cosmetic expertise and fine fragrances … and will blend them with the elegance and artistic flair of Paris."
Guillon's passion and style are reflected in the traditional white and gold décor of La Maison Valmont which features a personalized selection of artworks, signed by prominent international artists; Aristide Najean, the British David Tremlett or the American photographer Christy Lee Rogers.
With La Maison Valmont, Le Meurice adds a second Valmont beauty laboratory to its fame, as the boutique directly connects with its renowned and highly praised Spa Valmont. A lifestyle rendezvous fueled by the mission of making each experience better than the previous.
La Maison Valmont is located at 6, rue de Castiglione, 75001 Paris 1er and will be open Tuesday-Saturday 11:30 a.m.-7:30 p.m.