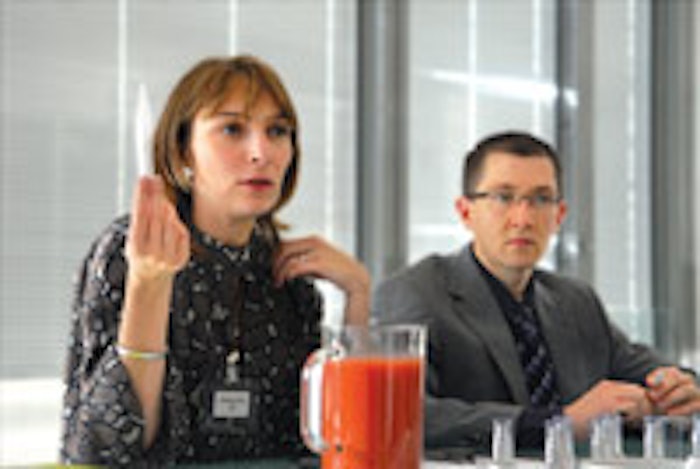 "Creativity is born from authenticity, but leans on tradition. A painter will not reinvent a rainbow, but will use colors in a different way." Fusion chef Pierre Gagnaire's insights neatly sum up a recent IFF program that cross-pollinates the formulation and ingredient knowledge of flavorists and perfumers in the service of unique sensory and emotional impacts. Now, a handful of these formulators gather to discuss the results.
 Sitting in a conference room at IFF's Paris fragrance center, perfumer Veronique Nyberg describes flavor and fragrance as two "secret worlds" that seek exploration: "There is much we can learn from each other." Flavorist Willy Hajdarevic adds that, "Our job is to get close to nature." Thus, using flavorists' keys as a starting point, perfumers can achieve new levels of naturalness in fragrance formulations. "Being close to nature, you get new effects," Nyberg continues. "It's another dimension into the fragrance."
Sharing ideas with Hajdarevic, Nyberg has created several accords and fragrances for men and women. "We sit together and go through formulas [of about 20 materials] and say, 'Try this ingredient, this raw material,'" says Hajdarevic. "You can't use everything because there's always a bit of fine-tuning." The object, he explains, is not to be literal, but rather to introduce abstract facets that remain true to the named food.
To illustrate, Nyberg and Hajdarevic show off a mango flavor in a beverage and an accompanying fragrance accord. While the flavor is true to life, the accord reflects a few key nuances. "You have the juiciness," she says. "It has to be intriguing, addictive. It has to connect [the consumer] to something else." The accord also has some of the astringency associated with the fruit, and placed in a feminine fragrance, it imparts an overlay of mango. The effect is anything but "wearing food." "It's done in a way that it's not too sweet, too sticky," Nyberg continues. "We tried to be very natural—you cut the fresh mango and squeeze it."