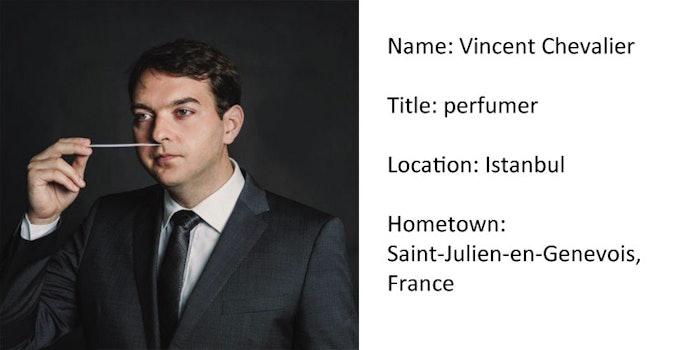 Perfumer & Flavorist+ [P&F+]: What led you to the fragrance industry?
Vincent Chevalier [VC]: I lived in Haute-Savoie, France during my childhood, and, undoubtedly, the nature of the countryside gives me a strong attraction to odors, particularly flowers, hay, fir and aromatics. Also, as my father was a fragrance expert, what we now call an evaluator or creative fragrance manager, I was in contact with perfumers and the fragrance industry very early. It quickly became a vocation for me to express my own creativity through perfumes.
P&F+: What applications do you primarily formulate for? Do you have a favorite?
VC: I am a cross-categories perfumer and I formulate for almost all applications. I primarily formulate for fine fragrances, shampoo, shower gel, bar soap and liquid detergent.
Fine fragrances are some of my favorites, as I particularly like to create olfactive signatures that suit people and bring them well-being and feelings of escape. The width of the raw materials library we can use for this segment is also very exciting for a perfumer. I also deeply appreciate creating fragrances for bar soaps and liquid detergents because of the technical challenge it brings, which enhances the creativity.
P&F+: Are there any recent projects/wins you're particularly proud of?
VC: "Scent of Music" by Dimash Kudaibergen, two perfumes created for the famous Kazakh singer, a big star in China. I went to Almaty and it was a very rich experience to try to transcribe in perfume a new cultural identity for me. Also, working for Kazakh, Russia, and especially the Chinese market in that case, is always a challenge I like investing in.
I am also proud to mention the wins of well-known multinational companies and their household projects.
P&F+: Where do you find inspiration?
VC: Nature and daily life mainly feed my imagination. Moreover, I am curious about botanicals, and always seek exotic flowers or woods to smell. I always pay attention to everything that smells around me, wherever I am, whether it is good or bad, and I am attached to understanding the taste and culture of people. This can help me to catch souls "olfactively."
P&F+: Are there any local ingredients that inspire you?
VC: Obviously, here in Turkey, I would say Isparta rose oil. Isparta rose oil is powerful and gives a natural texture on a very wide range of olfactive themes. It is a pillar of perfumery, a wide universe in itself.
P&F+: Describe yourself in three ingredients.
VC: Lime, Ambroxan and fir balsam.
P&F+: Do you have any favorite ingredients to work with? Why?
VC: Ambroxan, definitely. It's always, or very often, my first line on the formula. An ambery note is very substantive, with a pleasant and comfortable hint of creamy cedarwood and a wonderful air.
Damascenone and indole because they are pillars of the perfumer synthetic's palette and always a challenge to work with. I may need another decade to master them.
Some natural ingredients, as well, which give a lot of signature and texture like vetiver oil, fir balsam absolute, Osmanthus absolute and blackcurrant buds absolute.
P&F+: How has COVID affected your day to day as a perfumer or flavorist?
VC: Not so much. We have to adapt and that is it.