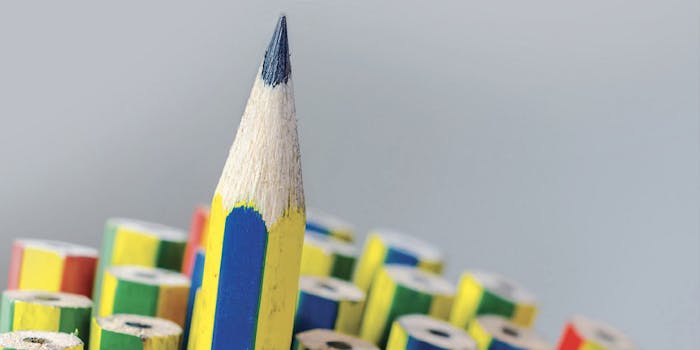 A brand-new space has opened up for niche formulation houses. Whilst niche fragrance brands as we understand the term today have been on the market for the past 40 years, the development of counterpart operations on the creation side of the industry is a recent trend. Small independent perfumers not connected to the big companies nor a part of Grassoise family lineage are on the rise to both fulfill smaller orders for the artisanal segment and satisfy consumer interest for relatable products developed with artistry in mind.
From perfumery school to independent business, Maelstrom's business model focuses on mindful creation of each fragrance for clients and brands. Photo courtesy of the author.
The increasing number of perfumers establishing themselves as independent corresponds with the exponential annual growth of ISIPCA graduates in an industry unable to accommodate its current rate of perfumer intake. In addition, the many mergers and acquisitions over the last decade have created commercial possibilities for smaller players to bloom and develop a strategy that places more value on transparency, artistry, intimacy and relatability in its products.
There are many benefits for a brand to contract an independent house including a creativity-driven process versus employing mass-development models and panel tests; a very personal relationship with the perfumer and authentic storytelling; a bespoke approach to formula changes and mod presentations; and an experimental mind-set resulting from a lack of corporate pressures. That said, potential pitfalls such as difficulty fulfilling large orders over time, lack of access to specialized materials and regulatory capabilities are challenging, as well as the risk independent perfumers often take with unestablished brands that have the potential to disappear from the market within a few seasons.
Here, we highlight six independents trying to fill new formulation niches.
Maelstrom
Year founded: 2017 (by evaluator Yohan Cervi, perfumers Patrice Revillard and Marie Schnirer)
Services offered: fragrance creation, consulting, professional training
Why did you start your business?
We had orders from potential clients and brands even before finishing our perfumery school. Moreover, it was our dream to found an independent perfume lab. Therefore, the pretext was perfect.
What attracts clients to your business and how do you compete in the market?
The main reason why clients should work with us is the proximity. We work closely together on each creation, from the brief and the first idea to the validation of the final version. We give equal priority and equal attention to each project. For their image, independent brands need to create conscientiously. We noticed that some big companies couldn't keep up with the demand of these brands in terms of time spent with them on the creation and in terms of minimum quantities of production. Indeed, these companies are accustomed to dealing the demands of big brands of the mainstream market.
Will Inrig Parfumeur
Year founded: 2017 (by perfumer Will Inrig)
Services offered: bespoke perfumery, love-letter writing
Why did you start your business?
Back before the rise of designer fragrances in the 1920s, fashionable women and men went to a perfumer to have bespoke perfumes made. The attitude was "Who wants to wear a perfume everyone can buy if you can afford something made to order just for you?" It was super-niche. A bespoke fragrance took several months to be assembled, during which time the client went to the perfumer for fittings to get it just right. Throughout the process, the perfumer shared the formula with the client, so that he or she could decide on every detail. Formulae were simple back then, featuring mostly naturals. I thought this kind of transparency was terrific and wondered why nobody was doing it today.
I founded my business last year to make bespoke perfumes for individuals, in total transparency. For most of my clients, this is the first time they've ever visited a perfumer. They come with loads of unusual ideas, which keeps me on my toes and forces me to think outside the box. The process is very similar to when I was painting portraits.
What attracts clients to your business and how do you compete in the market?
I'm an independent artisan doing bespoke. My work is completely different from that of the big industrial perfumers. Savile Row isn't H&M. In general, my clients choose me because they like my composition style; my technique is traditional, I learnt perfumery studying Ernest Beaux's work at Chanel. My clients want to work with an artisan, not a team, not a group, not an aroma chemicals manufacturer. The formula is created from scratch, exclusively for the client. The client chooses his structure and materials, and together we establish the brief. It's one to one, there's nobody to get in the way – no evaluators, no marketing folk, no test panels, no nonsense. I work with an open formula, which I share with the client during the fittings, in complete transparency.
Cecile Zarokian Sarl
Year founded: 2011 (by perfumer Cécile Zarokian)
Services offered: fragrance creation, in-house perfumer for brands, consultancy, masterclasses / workshops
Why did you start your business?
I trained for four years in Robertet, first in Grasse then in Paris, but I knew I could not stay after the merger with Charabot. So, the opportunity to start my own business was there. It's something I always wanted but envisioned doing later on in my career. I was afraid I might be too young, and maybe more experience would have been better, but youth can be a benefit also. I like challenging myself, so I took my chances instead of waiting and potentially getting used to a comfortable position with a certain standard of living you might not want to drop. Before I was too afraid to take risks. It's now been seven years and I have never been happier to be an independent perfumer!
What attracts clients to your business and how do you compete in the market?
I have a direct and close relationship with my clients—no salesperson in between—so there's no misinformation and the discussion is more accurate that way. It's a specific and unique fragrance creation every time, no matter the size of the client, since they are paying for creation fees in addition to the volume of concentrate, without limiting the number of modifications. That way it's not just about how big the client is nor the price per kilo of the concentrate; it should not impact the quality of creation or creativity for me. It's about composing a fragrance that really fits the clients' needs – the perfect match.
LAB Scent
Year founded: 2016 (by perfumer Nathalie Feisthauer)
Services offered: fragrance creation, with a focus on niche fine fragrances and candles
Why did you start your business?
I felt deeply that it was time to move on to another chapter of my professional and creative life. I was happy and passionate working over 30 years in big companies, Givaudan and Symrise, but one day the magic was gone. Yet, my love for perfumery was still there. And here I am running my independent lab. It has been amazing, almost surprisingly so! As an independent, the process is really different: you are in charge of every step, including finding clients. The most importance difference is that I choose the scents I show to clients, not evaluators nor sales representatives.
What attracts clients to your business and how do you compete in the market?
I think I can express my creativity more easily. I can propose more daring notes. This gives my clients full access to the creation and innovation process and puts them back at the heart of the artistic choices. I would say that in working with LABscent you have personal custom-made attention and access to real creative practices. Big companies—and it's the right way for them to go about their business—mainly use pre-made collections, mostly commercial and not very segmented. Niche brands are often too small for them to truly dedicate senior perfumers' time and commitment. By contrast, at LABscent I can spend time on the magic. For me and my clients it's a luxury.
Créassence
Year founded: 2000 (by perfumer Sylvie Jourdet)
Services offered: fragrance creation, helping brands to develop the whole of their perfume project from fragrance, to design, packaging, and project management
Why did you start your business?
It was the very beginning of "niche perfumery" and I realized that these new brands were looking for independent laboratories to be able to create very high quality and artistic fragrances that didn't only reply to a marketing brief! Their consumers are perfume lovers: they are looking for original and different perfumes in contrast to what they find in the mass distribution channel.
What attracts clients to your business and how do you compete in the market?
We offer a high quality of service. There is proximity with our clients that they can't find in the larger houses that only create for large production. My clients can find a direct dialogue with me, as perfumer-creator, which allows for a better understanding of their wishes and needs.
Olfiction
Year founded: 2016 (by evaluator Nick Gilbert and perfumer Pia Long)
Services offered: perfumery, evaluation, range development, retail training, marketing support, copywriting, content production
Why did you start your business?
We started Olfiction as a natural evolution of our freelance careers—both of us were being approached by the same clients for help with different aspects on similar projects—and we knew our skillsets were similar and complementary to one another.
What attracts clients to your business and how do you compete in the market?
If someone is looking for a completely bespoke fragrance for their project, or needs to have additional marketing support alongside their fragrance development, then we are able to help in ways that larger houses aren't. We don't intend to compete with the larger fragrance houses – we're filling a niche in the market. As a smaller supplier with a strong creative team we are also able to work with brands and businesses who don't have a creative new product development department in-house, or do, but wish to collaborate with one that is connected to perfumery. Many of our clients are new to perfumery and come to us because we can support them in how to work with a perfumer.