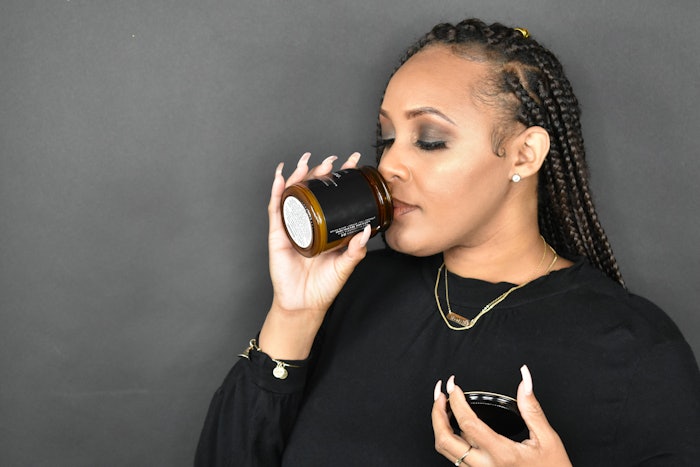 C/O SCENT & FIRE
Scent & Fire founder, "Scent Bae" Monisha Edwards, is on a mission to tackle mental health issues with products designed to de-stress environments. The Black female-owned company's line-up includes fragrance collections made from domestically sourced raw and recycled materials. Edwards utilizes tech to enhance aromatic experiences through curated music playlists and online community building.
Related: Scent & Fire Launches Sneaker-Scented Candles
After being diagnosed with PTSD, seasonal affective disorder and severe anxiety, Edwards discovered aromatherapy and burned candles to calm her environment and keep anxiety attacks at bay. This led to candlemaking on her own, which helped with her stress and depression, curating her own scent blends in soy wax. The now six-figure company offers collections ranging from candles, wax melts, room sprays and diffusers.
Here is a look at some of the signature candle offerings: 
Good Juju: Offering a blend of herbs, lavender and aromatic woods to "cleanse and enhance good vibes."
Socially Distant: Described as an earthy candle with notes of pineapple and sage, "reach high vibrations and cultivate positive energy while you're distancing yourself from the outside world."
Brown Skin Glow: Infused with coconut, shea, sweet almond and tonka bean. This scent comes with the Brown Skin Glow playlist on Apple Music.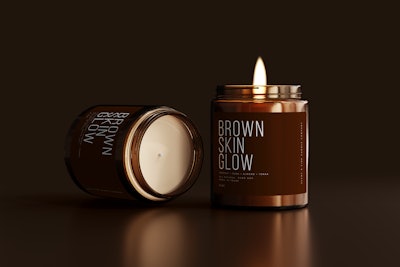 In a press release Edwards shared, "Through scent and sound, my customers and users can count on an eco-luxury multi-sensory experience without sacrificing wellness, sustainability or aesthetics. I create my products to beautify environments and provoke the senses with clean fragrances. Scent & Fire provides clean fragrance alternatives and aromatherapy experiences for self-care and a sense of wellbeing. Making the conscious decision to rise above any past trauma and mental issues, and using the gifts and talents I possess to make clean fragrances was my sole goal."
Edwards continued, "I do it all for the culture and mental wellness. From our candles to our perfume-based sprays, all the way down to our curated music playlists dedicated to each scent, and our minimalistic fragrance-inspired apparel—it's all purposeful, driven and inspiring. Our brand is essentially an ecosystem of eco-conscious products and sensory experiences."
All offerings can be found on Scent & Fire's official website, scentandfire.com.
Want to know everything going on in flavor & fragrance? Sign up for P&F+'s newsletter. You can also follow along on Instagram and LinkedIn.