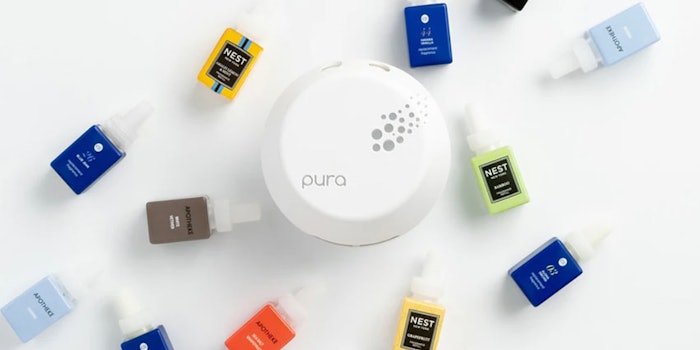 Smart home fragrance company, Pura, has been making headlines with recent collaborations with brands, including Nest, Capri Blue, Apotheke, Homesick, Floral Streets and Disney. 
Related: Pura and Homesick Partner on Fragrance Line
Founded in 2015, the Pura Smart Home Fragrance Diffuser allows customers to customize their scent experience from their smartphones. Latin for "pure," the company utilizes paraben and phthalate-free, cruelty-free ingredients within its wide variety of fragrances, including citrus, floral, fruity, fresh and woody.
Perfumer & Flavorist+ [P&F+]: First, let's touch on inception. How did the brand come about and what did the process of launching look like?
Bruno Lima [BL]: My co-founder, Richie Stapler, originated the idea of smart home fragrance, but it was the core of a much larger idea that came from interviewing and meeting with thousands of potential customers to really mold Pura into the idea that it is today. Pura spent about three years in ideation and beta device creation to ensure that, by the time it launched, we were confident to offer exactly what the customers wanted.
P&F+: Could you explain how the smart home scent diffuser technology works?
P&F+: Can you shed some light on the evolution of Pura's products?
BL: Pura's core technology consists of software, firmware, electronics and hardware that can be translated into a range of amazing products. Pura is currently innovating in multiple product lines and partnering with industry leaders of each market.
P&F+: How do you ensure each fragrance creation aligns with Pura's name to create clean and safe home fragrances? Do you work directly with the fragrance suppliers on creation alongside each brand? Do you require ingredient disclosure from the suppliers?
BL: Absolutely to all of the above questions! We work directly with fragrance houses to ensure that we get all of the correct documentation of ingredients and standards for everything that is used. When we are translating fragrances from candles, we have to use different materials, and we absolutely make sure that all of those are clean for Pura requirements and are held to the highest standards. 
BL: We're working to introduce some exciting product developments and enhancements that will continue to improve home fragrance for our customers. We have some exciting new scents and brand partnerships on the horizon that we're looking forward to releasing.
P&F+: What have been some of the most exciting scent partnerships for Pura? What does the fragrance creation process look like once a collab begins?
BL: We can honestly say that every single partnership has been absolutely amazing to develop and create. Obviously, partnering with Disney and some of the celebrities has been incredible, but working with every brand is something special and unique, so we can't single out just one. Mara Dumski (Pura's chief fragrance experience officer) is amazing at what she does, and so is our business development team. One of the biggest things we wanted from the beginning was clean fragrance, and so that is, of course, a vital part of the process to make sure everything is created at the highest quality with ingredients that uplifts the home.  
P&F+: From your perspective, what is the future direction for the home fragrance industry? Where is the untapped potential?
BL: The future of home fragrance is providing amazing scents for customers that smell fantastic, but are also clean and accessible for home and life. The future of home fragrance is Pura!
Want to know everything going on in flavor & fragrance? Sign up for P&F+'s newsletter. You can also follow along on Instagram and LinkedIn.