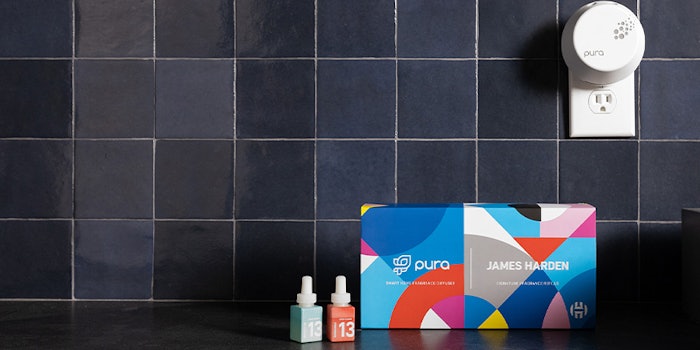 Pura x NBA All-Star James Harden announce the launch of his two signature fragrances, 13-Confidence and 13-Relaxation.
Previously: James Harden Joins Pura as Investor and Creative Director
Harden worked alongside International Flavors & Fragrances' (IFF) renowned senior perfumer, Laurent LeGuernec and the Pura team to bring these scents to life.
The launch includes two fragrances, the first: 13-Confidence is a fusion of spices and marine freshness with notes of noble amber woods. The second: 13-Relaxation contains notes of sanguine zest of ruby grapefruit as well as a blend of smooth woods and Tonka lend a more sensual side.
To create these scents, IFF used its proprietary technologies: ScentEmotion and BrainEmotion to decode emotions olfactively and recreate them in scent while Pura brings to life the ability to control scent intensity, swapping between two fragrances, and setting custom scent schedules from any smart device.
Pura x James Harden Fragrances retail for $18 each or $85 for the set, which includes the Pura device and two James Harden fragrances.