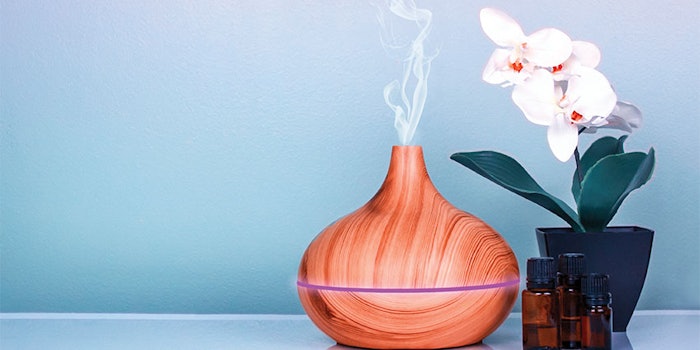 The air care industry has grown considerably in recent years. From reed diffusers to candles, it is now common for brands of perfumes or personal care products to include air care solutions in their lines of products. This growing trend is also reflected in the numbers: in 2019, the global air care retail market was valued at $12.7 billion, and it is expected to surpass $15 billion by 2024a.
The growth of the air care segment seems to have been accelerated by two main claims that are somewhat contradictory. First, air care products are often positioned as a wellness product where the natural claim is prominent. Consumers are increasingly scrutinizing ingredients and looking for natural air care products that complement their lifestyle. It then comes as no surprise that the number of launches making a botanical and/or herbal claim has doubled over the last five years, appearing in 32% of launches in the 12 months ending March 2020b.
On the other hand, consumers also purchase air care products for their function-driven attributes. These solutions are often achieved through the use of chemical additives, which clearly conflicts with the first trend. For instance, around two-thirds of air care users in the United States identify odor neutralization as a key purchase driver. The same is true in France and Germany, where some 60% of consumers buy air care products to mask bad odorsb.
In response to this increasing demand, fragrance houses now have to offer their customers more than just "regular" fragrances. These new products are often presented as incorporating additional technologies in order to meet the consumer's needs. In this article, we will take a closer look at three of the most common fragrance technologies used in air care products: malodor neutralization, antibacterial effects and long-lasting performance. 
For the full article, please check out Perfumer & Flavorist's September 2020 issue. 
Footnotes:
awww.portal.euromonitor.com/portal/?MTgnfLwbIZgnYjcs1mhlcQ%3d%3d
bhttps://clients.mintel.com/report/a-year-of-innovation-in-aircare-2020