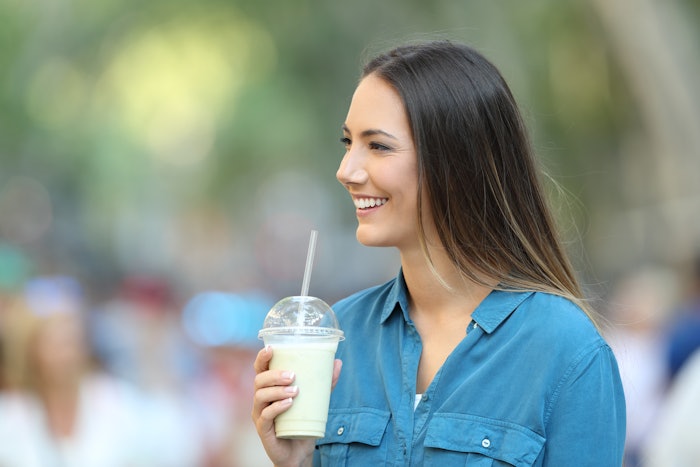 Dreamstime
Lyons Magnus released its 2023 version of its annual Flavor & Trend Predictions report. Based on "proprietary research and analysis" the brand has conducted, according to John Koch, vice president of national accounts, these trend insights are meant to help identify new and emergent products, flavors and patterns that consumers can partake in as the new year arrives.
Related: The Latest 2023 Flavor Trend Predictions
The predictions include a variety of diverse flavors, including pistachios and dates, as well as consumer trends that rely heavily on nostalgia and "premium" or alternative twists on classic beverages, such as slushies, coffees and teas.
Lyons Magnus flavor & trends predictions include:
Pistachio: Lyons Magnus predicts that this lightly sweet nut flavoring will pop up just about everywhere, from flavoring in beverages and pastries to menus of all varieties. It could also become the next popular plant-based milk in the vein of cashew and almond, as according to Lyons Magnus, it requires less water than its competitors and performs well as a beverage additive.
Nostalgic Foods: Consumers can't get enough of comforting, familiar foods, beverages, and flavors, according to Lyons Magnus. That means the industry will trend toward introducing more nostalgic foods, recipes, sodas, collectibles and even ad jingles to capitalize on this "warm and fuzzy" trend throughout the new year.
Dates: Lyons Magnus predicts dates will take center stage in smoothies, coffee beverages and baked goods as well as charcuterie boards and desserts for their nutritional properties. They'll also be popular as a syrup substitute and as simple, ready-to-eat snacks.
Slushies: Creamy, real fruit treats are the new slushie. Lyons Magnus predicts that quick-service brands will introduce or upgrade their frozen delicacies far beyond their syrup and ice counterparts, adding more complex flavors like blood orange, guava, and pitaya to their offerings. The alcoholic counterparts of these fun fruit drinks will likely also see upgrades as well.
New Brews: Expect new alternatives to the coffees and teas you've seen in the market over the years. A species of holly called yaupon that contains caffeine can be brewed for a light, energizing tea. Mushroom coffee, brewed from traditional coffee and medicinal fungi, also boasts benefits like reduced stress, lessen inflammation, and better immune health. Japanese hojicha green tea will also see a rise in popularity, as it is said to help to reduce cholesterol and stress and comes packed with antioxidants. In addition, caffeinated beverages like energy drinks and refreshers will be taking up more space on menus.
Want to know everything going on in flavor & fragrance? Sign up for P&F+'s newsletter. You can also follow along on Instagram and LinkedIn.