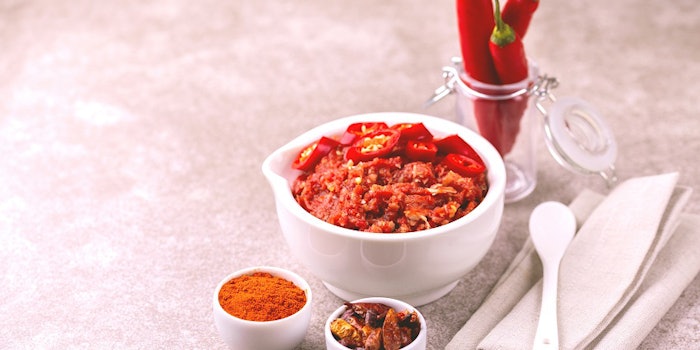 As consumers continue to tempt their taste buds with spicier and hotter flavors, the North African garlicky chili paste known as harissa is positioning itself to be the next sriracha.   
Sometimes referred to as Tunisia's main condiment, this paste combines hot chili peppers with garlic, olive oil and spices like cumin, coriander, caraway and mint. Tomatoes and rose petals are also common ingredients. 
According to Fona International insight, harissa flavors have begun to spread globally, as consumers and product companies embrace bolder flavor profiles. Some of Fona's market insight has found:  
Harissa on the menu. Harissa has appeared on 199 menus with appetizers, entrees and sandwiches being the top three menu section. Appetizers accounted for 46% of all harissa flavored menu items.
A popular flavor in Europe. The top global region for new harissa product introductions was in Europe, which saw 66% of all new products. Seasonings were the top global product subcategory for harissa flavored product and chicken was the top food harissa was paired with.
Harissa on the rise in North America. Accounting for 18% of all harissa flavored product introduction, the North American market saw the introduction of 18% of all products. Dips are the top subcategory for harissa product, and chili is the top flavor paired with harissa.