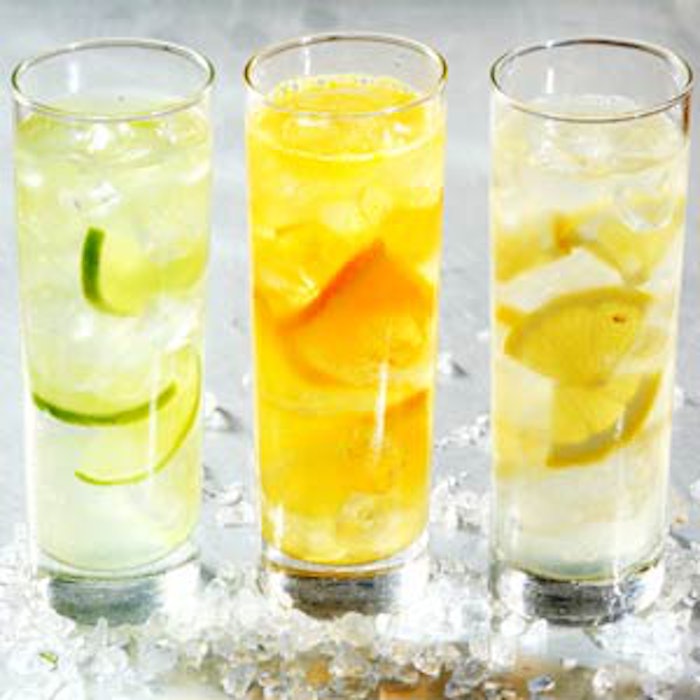 Due to consumer's growing health perceptions in the beverage and flavor industry, the demand for citrus flavors is growing, according to Beverage Industry.
"Forward Thinking: It's Citrus," which appeared in the March 2011 issue of Perfumer & Flavorist magazine, also explored citrus flavor and fragrance trends, strengthening its presence in the industry.
Two years later, citrus' refreshing effervescence continued to appeal to palettes, according to "Forward Thinking: Citrus in the Limelight," published in the April 2013 issue of Perfumer & Flavorist magazine. Topics included lemon, lime and orange flavors as well as grapefruit—the emerging en vogue citrus ingredient.
Fast forward to 2014, lemon was predicted to be one of the top three best-selling flavors in 2014, according to respondents of Beverage Industry's 2013 New Product Development Survey.
Popularity Not Fading in 2015
Beverage Industryalso reports that Dolf DeRovira, president of Flavor Dynamics Inc., South Plainfield, New Jersey, says orange, lemon and lime flavors are the most popular, especially in soft drinks.
Other Trends Influencing the Citrus Craze
Health and wellness has been a cross-industry movement, so it's not surprising that it has extended to the beverage industry. Last year, Wixon Inc. launched a program featuring flavor modifiers for health and wellness beverages that enhance product satiety while reducing sugar in low-calorie beverages.
According to Beverage Industry, since 2011, 23% of citrus beverage launches carried the claim "No additives/preservatives," making it the second most prominent claim on beverage packages, according to Minerva Calatayud, strategic marketing director of beverage and sweet flavors at Kerry Inc., Beloit, Wisconsin. The article also cites citrus as a leading flavor in the health-and-wellness trend as it is known to be a good source of Vitamin C and many other essential nutrients.
Back in 2013, Innova Market Insights predicted that healthy flavors and new-generation superfruits were to be the next big hit in the global beverage market. 
An Authentic Flavor
Citrus flavors have capitalized on the growth of premium beverages. Industry experts have reported premium beverages increasing in sales, despite a weak economy. This occurs because "consumers are always looking for an indulgence or way to feel special," says Calatayud in the article.
At the beginning of the year, Bell Flavors & Frangrances Europe revealed its flavor trends for 2015: the flavor comfort zone and the flavor innovation zone. 
Citrus landed in the flavor comfort zone: "The differentiation of citus profiles is a global trend for 2015 whether it is for sweets, drinks or aromatic foods ... Examples include the dominating role of orange and lemon flavors in soft drinks and sweets such as fruit gums, ice cream and chocolate candy. Flavor innovations can be found in blood orange, tangerine and grapefruit," according to the report.
The Millennial Mindset: Integrating Exotic Fruits
"A growing sophistication of consumers and the desire for more exotic flavor profiles — especially driven by millennials — is changing the flavor profiles and innovation within the alcoholic and non-alcoholic beverage categories and increasing the need for more sophisticated citrus fruit profiles," Calatayud notes.
Although millennials are driving the growth of exotic citrus varietals, they're also causing beverage-makers to innovate with new product launches more often, she notes. Milennials are also the driving force of the health foods trend, where manufacturers are creating flavors that offer essential vitamins and minerals.
Blending Flavors
The article continues to dive into flavor mixing, citing Dave Bowen, manager of citrus creation for Firmenich, Geneva, Switzerland, who adds that as beverages embrace fusion trends, citrus blends will continue to emerge. 
Going Retro: Lemonade With a Twist
"As consumers are moving away from sugary carbonated beverages, we are seeing a significant and growing interest in lemonades, which are considered perceptibly healthy, retro-comforting and all-American," explains Anton Angelich, group vice president of marketing for Virginia Dare, New York, from the article.
The Future of Citrus
In the future, great-tasting citrus flavors and ingredients will fit consumers' demands for clean-label, simple and environmentally friendly flavors, Calatayud reports.
Source: www.bevindustry.com