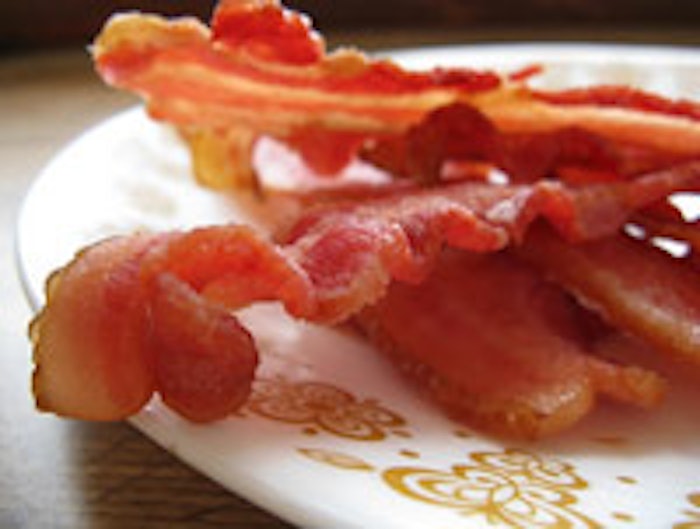 The pleasures of bacon have moved beyond brunch and BLTs to just about every cuisine type. Within the foodservice sector, bacon has made an increased appearance outside of traditional breakfast platters into unthinkable menu sections such as cocktails and desserts. Its crispy texture, salty taste and smoky aroma make bacon a versatile ingredient that compliments an array of dishes. On the retail side, bacon has influenced the designs of products found in unlikely categories that include chocolate confections and body soap.
Bacon without Boundaries
Bacon is undoubtedly one of the more common ingredients seen in menus. However, despite this, the meat is typically offered as a side item or supplement to entrées and sandwiches. Yet, a handful of restaurants across all segments are unveiling their menu items with bacon as the primary ingredient. The stand-alone restaurant, Socca in Chicago, features whole bacon strips on its appetizer menu. Dallas' Abacus serves its refined Bacon and Eggs, comprised of Niman Ranch chipotle bacon, scrambled duck egg and black truffle for dinner.
Quiznos and Chili's recently introduced their own bacon-inspired dish for a more affordable menu option. From Quiznos, the Crisp Turkey Bacon Swiss Summer Sub contains lettuce, diced tomatoes, creamy ranch dressing and Swiss cheese paired with oven-roasted turkey and crispy smoked bacon. Chili's Fire-Grilled Bacon Ranch Chicken Quesadillas are fire-grilled tortillas made with fajita-marinated chicken, applewood smoked bacon, mixed cheeses, ranch dressing and a kick of southwestern spice.
For bacon enthusiasts who desire the savory flavor of the crunchy meat beyond its original form, there's J&D's BaconSalt, a table seasoning salt reminiscent of bacon. Positioned on the thought that "everything should taste like bacon", BaconSalt is a vegetarian, low-sodium, calorie- and fat-free kosher seasoning that makes food taste like bacon. This salt is available in a wide variety of flavors, some of which include Original, Hickory, Peppered, Natural and Applewood. The makers of BaconSalt market the product as a seasoning for all types of foods and dishes.
The Sweet Tooth Turns to Bacon
For restaurateurs and manufacturers looking to creatively incorporate bacon in their dishes and product offerings, now is the time to put such brainstorming into action. Desserts are one area of the menu and grocery aisle that have undergone ingredient experimentation with bacon. Those seeking adventure in their sweets would enjoy Chicago's More bakery that serves Bacon Maple and BLT cupcakes. From the chocolate confectionery segment, Vosges-Haut Chocolate launched Mo's Bacon Bar—a chocolate bar treat that consists of applewood smoked bacon, alder wood smoked salt and deep milk chocolate. Mo's Bacon Bar is dually functional as its interesting combination of ingredients satisfy both sweet and savory tastes.
In uncertain times, bacon brings to mind memories of home, safety and security. This savory meat is a staple ingredient in American cooking because it may be paired with a wide variety of foods or enjoyed simply on its own. With comfort foods influencing some of today's more broad line trends, bacon can additionally expect further emergence in the coming months. As the attraction of bacon-flavored and scented items continues to build among the public, uses for bacon are sure to enter the market and restaurant world in even more innovative ways.
Mintel Global New Products Database (GNPD) tracks new product launches, trends and innovations internationally. For more information, click here or call 1-312-932-0600.