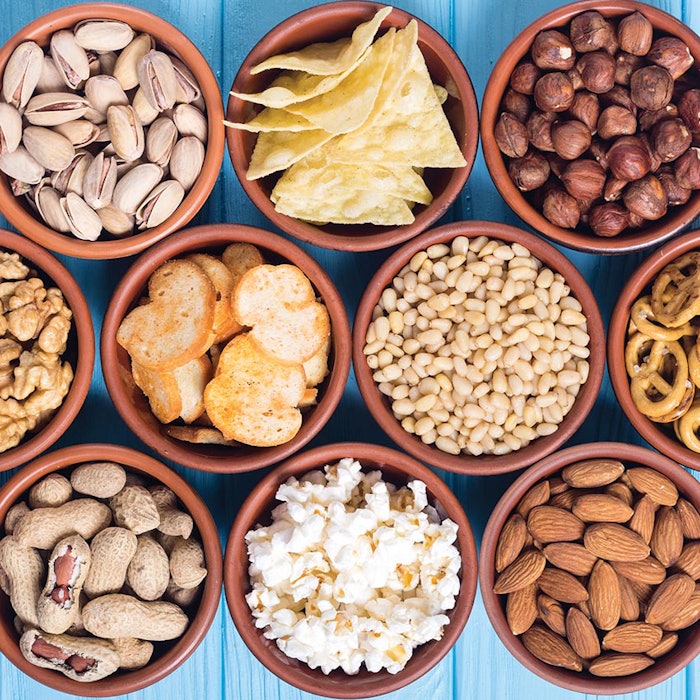 With consumers snacking at all times of the day and demanding a range of products to match their lifestyle, brands and manufacturers are responding in kind with bold, culinary-inspired flavors in a variety of bases such as meat, poultry, fish and plant-based ingredients.
According to Citi Research and Euromonitora, the global snack market was worth $406 billion in 2018, and salty snacks were worth $83 billion with a 14% share of the global snack market. According to Mintel's Global New Products Database (GNPD)b, China is the leader of salty snack innovation with 11% of the world's salty snack product launches in 2018. The United States follows with 8%, India 7% and Indonesia and Japan each represent 5%.
According to data from the National Confectioners Association (NCA)c, U.S. retail sales of snacks were $51 billion in 2018 and were the second largest consumable category. In addition, new products account for nearly 5% of sales in the snack category compared to about 3% of sales for overall consumer packaged goods. According to IRId for the 52 weeks ending Feb. 24, 2019, in the convenience store channel, total salty snacks sales reached $5.6 billion, a 5.4% rise over the previous year. Sales of potato chips reached more than $1.7 billion, up 2.6% while tortilla/tostada chip sales exceeded $1.1 billion, an increase of 11.6%, and pretzels recorded $245.1 million in sales, up 2.2%.
Consumers are snacking at all times of the day and looking for a variety of products to meet their lifestyle needs. Brands and manufacturers are capitalizing on this trend and meeting their evolving demands by offering a selection of bold, culinary-inspired flavors and a variety of bases such as meat, poultry and fish, as well as alternative plant-based ingredients and healthier preparation methods.