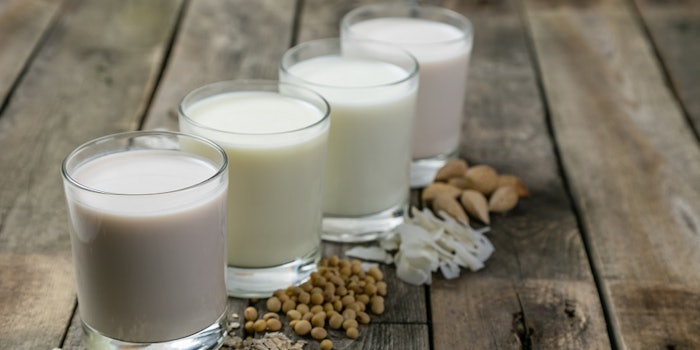 According to a recent Mintel research report, the dairy and non-dairy milk markets are witnessing strong growth due to product and flavor innovations.
Variety: Non-Dairy Spice of Life
One of the strongest segments of the milk industry is the non-dairy milk market, which grew 61% since 2012 to reach a value of $2.11 billion in 2017. Leading the growth in the market is increased consumer attention, along with product innovations and flavors. The report indicated that for the non-dairy milk market, almond milk consists of 64% of the market share, while soy commands 13% and coconut 12%. The remaining market share is made up of non-dairy milk products that are slowly gaining ground.
"While almond, coconut and soy milks remain the most popular types of non-dairy milk, other nut and plant bases are gaining traction, including pecan, quinoa, hazelnut and flax milks. Both established and new brands are taking advantage of the growing non-dairy milk segment, innovating with alternative non-dairy bases. Innovation will be a catalyst to drive the category forward in 2018 as both mainstream bases like almond and alternative plant bases offer added functional benefits and unique flavors," said Megan Hambleton, beverage analyst at Mintel.
Flavors Flourish
In addition, the report indicated that consumers are increasingly paying attention to the flavor of both dairy and non-dairy milk products. The flavored milk segment is the fastest growing segment of the dairy milk category, growing to a value of $1.74 billion, an 18% increase from 2012. According to a survey, one in 10 consumers of both dairy and non-dairy milk agree that they are buying more milk because of innovative flavors.
 "As the dairy milk category increasingly faces cross-category competition, flavor will play a growing role in determining where consumer dollars go," said Hambleton. "Appealing to kids and adults, flavored milk is one of the only milk types that lends itself to multiple occasions such as being consumed on its own as a thirst quencher, accompanying a meal or as a post-workout recovery drink. With the increase in flavor options, as well as innovations that promise better nutrition, flavored milk will be a segment that helps fill the gap left by skim and low-fat milk options."
Though consumers are most familiar with chocolate milk, other flavors have begun to emerge on the market, following similar flavor trends. Non-dairy milk company Milk offers a range of flavored cold pressed milks, which include Maple Pecan Malk, Vanilla Almond Malk, Unsweetened Cashew Malk and Unsweetened Almond Malk. For dairy milk, Shatto Milk Company offers its milk products in chocolate, strawberry, cookies n' cream, banana, cotton candy, coffee, eggnog and root beer flavors.