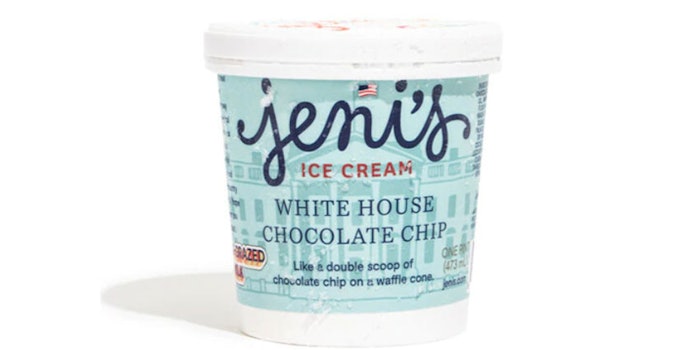 Jeni's Splendid Ice Creams launches new limited edition flavor, White House Chocolate Chip, in honor of president Joe Biden. 
The flavor is meant to mimic Biden's favorite order—a double scoop of chocolate chip on a waffle cone.
Related: Crank & Boom Offers Kamala Harris Ice Cream
White House Chocolate Chip features crunchy, complex Fair Trade chocolate flakes combined with buttery, chocolate-covered waffle cone pieces, mixed in vanilla ice cream made with Madagascar vanilla and flecks of vanilla beans.
"White House Chocolate Chip is a flavor made in the spirit of building a better future. Because ice cream has the power to bring people together. It's why we make ice cream the way we do."
The new flavor joins four others from the "White House Secret Stash Collection." 
Each pint is $12, with a limit of two per order. Jeni's ships throughout the United States and also offers local delivery to select states.