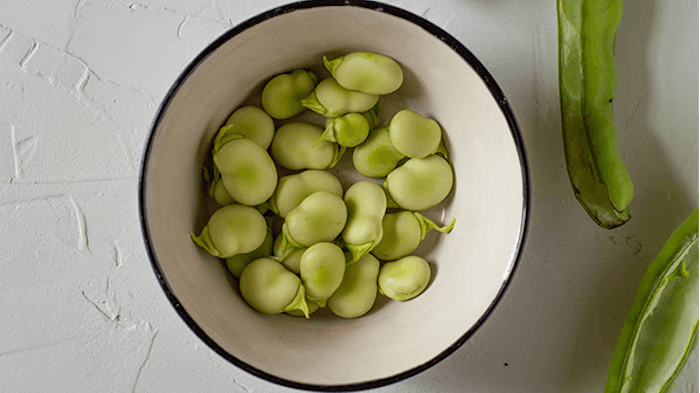 C/O SYMRISE
In a partnership with Wageningen University and Research (WUR), Symrise's Taste, Nutrition & Health Division has started the Pulses Optimized for Flavor and Functionality project. The project is designed to cover the supply chain from seed to product, bringing together partners representing every stage of the protein supply chain from seed breeder to end user. 
Related: Symrise Offers Solution for Plant Protein Aftertaste
This project is in response to consumers' increasing demand for protein sources from legumes, such as peas and faba beans to replace animal protein in alternative meat and dairy products—coming from responsibly sourced and processed raw materials. Symrise and Wageningen have partnered to build a comprehensive ecosystem that ranges from seed production to securing consumer acceptance of improved meat and dairy alternatives.
The project aims to contribute to the alternative protein transition by breeding pulses for optimal flavor and functionality. The species the project focuses on growing well in the European climate and are said to work well as protein sources for human consumption. And they produce a relatively high yield and fix the nitrogen content of the soil. These factors make legumes, and certain pulses with dried edible seeds attractive as protein crops.
The project investigates what is said to be one of the major challenges of plant protein sources. Currently, legume proteins often lack optimal flavor and functionality for use in consumer products. This project sees Symrise, plant scientists, food scientists and other partners collaborating to improve this situation by combining their expertise, specifically for use in complex foods.
Melanie Stuertz, Ph.D., Research & Technology, Symrise AG, stated, "This investment by Symrise and the other consortium partners is improving product quality as well as supporting biodiversity by breeding better varieties of pulses like peas and fava beans. The project will enable significant growth in the European pulses supply chain. It will also continue to drive the development of responsibly sourced ingredients that enhance quality and taste in the alternative protein market."
The project also welcomes participating organizations including Emsland Group, GDM Seeds, Plant & Bean, Symrise AG, Unilever, Vandinter Semo, Van Waveren, Vion Food Nederland BV and Westland Kaas.
A second publicly funded project with WUR, in which Symrise partnered, aims at developing an understanding of mechanisms driving flavor and texture perception of meat equivalents. It intends to apply its findings across the supply chain to improve sensory quality of meat equivalents. This project also includes different consortium partners.