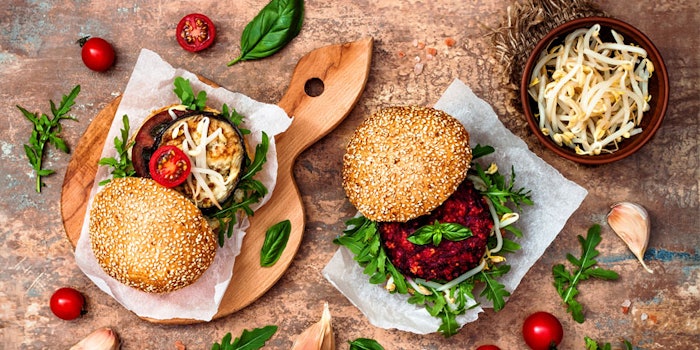 A report by the Hartman Group states that 48% of consumers are seeking products labeled "plant-based." Whether it's based on perceived health benefits, environmental impact or personal preferences, the plant-based trend continues to grow in popularity.
Related: Plant-based Foods & Desserts Roundup
T. Hasegawa USA explores how the focus on flavor is a crucial aspect of plant-based protein foods, and how new innovative technologies are providing the same familiar taste and experience of animal proteins.
According to an FMI study, the global plant-based burgers market was to be valued at $2.7 billion by the end of 2020 and is forecast to grow at a CAGR of over 22% between 2020 and 2030.
Food flavorists must replicate the taste and texture of plant-based meat alternatives without sacrificing flavor and aroma, both as the food is being consumed and while it cooks.
T. Hasegawa cites the use of a unique fat mimetic process to help give a plant-based burger the same fatty taste and mouthfeel as a traditional burger. The Maillard reaction flavor technology is also critical in plant-based protein development. Flavor compounds in raw foods react with amino acids, proteins and sugars to produce a browning effect that gives cooked food its complex flavor.
T. Hasegawa vice president of research and development, Jim Yang, said, "In the past, the flavor and texture of plant-based proteins was a barrier-to-entry for many consumers. Our team has developed several innovative flavor systems that improve the taste of these products and deliver a more authentic, familiar protein experience."
T. Hasegawa senior flavor chemist, Austin Luft, said, "Our customers have utilized T. Hasegawa's fat modifying process to provide a completely authentic burger experience with plant-based proteins. This technique has proven itself in a broad range of alternative proteins including burger patties and plant-based versions that simulate ground beef. Flavor is only half the experience with a burger, and this process is extremely important to deliver the rich, fatty mouthfeel that consumers crave."
Luft added, "Plant-based meat alternatives are especially complex because of the variety of cooking techniques that we need to simulate when developing a new flavor. Our customers often need to replicate one of many different meat-cooking techniques, including blackened, char-grilled flavors, broiled, smoked and more. The reaction process unlocks the specific flavor that we expect in these foods, and we are able to isolate that reaction flavor compound and offer it in versatile sprayed dry encapsulation, powder and water-soluble form to suit a wide range of protein applications."
Want to know everything going on in flavor & fragrance? Sign up for P&F+'s newsletter. You can also follow along on Instagram and LinkedIn.