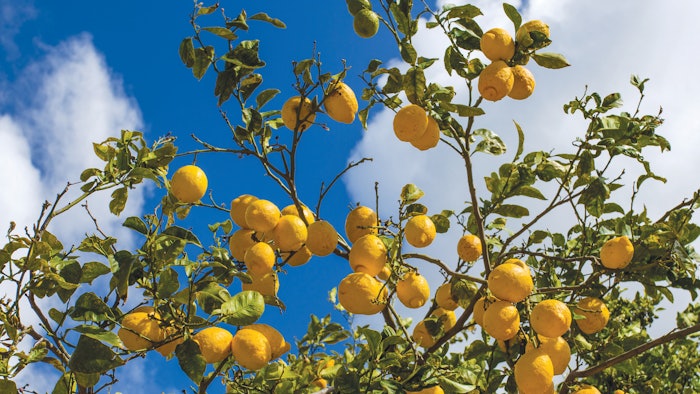 Continuing the theme of citrus, IFEAT shared its Socio-Economic Report on lemon outlining uses, growth, production, major producers and much more. According to the report, citrus oils are the largest group of essential oils and lemon is the second largest citrus oil after orange and its derivatives. The following excerpt from the lemon report details the global production, current market challenges as well as legislation and regulatory updates. The entire report can be found at ifeat.orga for further reading.
Lemons are produced in a large number of countries worldwide. Some very large producers of lemons, particularly China and India, produce negligible amounts of lemon oil. Production of lemon oil is dominated by Argentina, Spain, Italy, the United States and South Africa. Argentina and Spain dominate world production, with approximately 70% of global output. The United States, Turkey and Italy are also important lemon growers. Currently, these six countries (represented in the figure below) combined account for approximately 84% of world lemon production. Smaller producers are Chile, Mexico and Brazil. There are also some lemon groves found in China, India, Uruguay, Bolivia, Morocco, Greece, Israel and Portugal. Lemon usually grows best in a Mediterranean climate characterized by hot days, cool nights and a rainy season. Lemons produced in coastal areas are usually superior to those grown in desert regions. There can be substantial variations in annual production and processing mainly as a result of climatic factors, including frosts, droughts, heavy rainfall and hurricanes.
Footnote:
aifeat.org/wp-content/uploads/2021/09/Socio-Economic-Report-on-Lemon-2021.pdf
For the full article, please check out the Perfumer & Flavorist+ December 2022 issue.