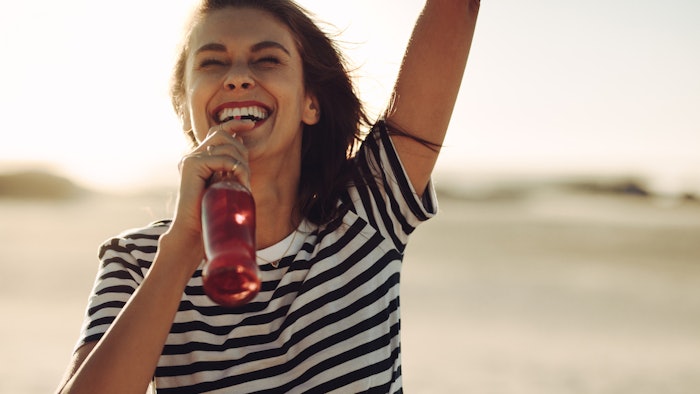 C/O Conagen
Conagen has announced the commercialization of a portfolio of natural sweetness enhancers for taste modification in sugar reduction solutions for food and beverages. The enhancers are made with precision fermentation, a technology that has led to the innovation of a platform of phenolic antioxidants.
Related: Conagen Debuts Thaumatin Protein Sweeteners
Conagen's sweetness enhancers belong to a group of natural product molecules called phenolic compounds, found extensively in many plant species. Phenolic compounds are commonly found in vegetables and fruits and are a significant part of the human diet. They are biosynthesized by plants and lichens as secondary metabolites and comprise a diverse group of phytochemicals.
Conagen and Sweegen have previously teamed up to develop modern natural sweeteners that can replace up to 100% sugar in particular food and beverage applications and bitter blockers to mitigate up to 80-100% bitterness in consumer trending products, such as energy drinks, sauces, and confectionery products with low to no sugar.
Casey McCormick, head of global innovation at Sweegen, said, "Together with Conagen, we're building a bridge of natural solutions with mainstream taste. These new molecules can modulate mouthfeel and boost the sensation of the sweetness of other sweeteners and flavors in food and beverages, leading to a significant reduction in sugar usage."
McCormick added, "Conagen is an ideal innovation partner for Sweegen to continuously build our robust and powerful portfolio and pair it with our first-class sweetener systems. The more sweetness enhancers in our toolbox, the better our exploration and discovery of new ways for food and beverage brands to make healthier products that taste great and resonate with consumers."
Casey Lippmeier, Ph.D., vice president of innovation at Conagen, said, "These unique molecules are yet another example of how Conagen leverages its molecular platforms and precision fermentation capabilities to create useful ingredients for food and beverage applications. Our ability to rapidly scale modern, clean and sustainable sweetness enhancers provides additional and better options for taste modulation and sugar reduction beyond those enabled by the non-caloric sweeteners already on the market."
Want to know everything going on in flavor & fragrance? Sign up for P&F+'s newsletter. You can also follow along on Instagram and LinkedIn.