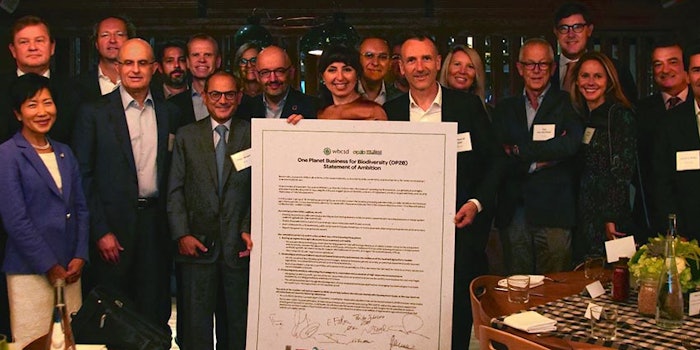 During the United Nations Climate Action Summit in New York, Firmenich announced the "One Planet Business for Biodiversity" platform (OP2B) to address alternative agriculture practices and biodiversity restoration to the supply chain.
The UN Climate Action Summit brought together world leaders and experts on climate change in New York City this week. Firmenich is a founding member of OP2B along with 19 other companies. Led by the World Business Council for Sustainable Development (WBCSD) and Emmanuel Faber, chairman and CEO of Danone, the coaltion announced its commitment towards developing alternative agricultural practices and biodiversity protection across their supply chains and product porfotlios.
Gilbert Ghostine, CEO Firmenich said: "Business is expected to play a vital role to reverse biodiversity loss. Firmenich ensures a highly responsible and traceable supply chain for our natural ingredients, making a real difference. We are improving the livelihoods of more than 250,000 farmers around the world and this is just the beginning!"
Related: [podcast] Two Sense: Happy Farmer, Stronger Supply Chain
Peter Bakker, president and CEO, WBCSD, said: "This coalition has specific and ambitious goals that will drive real change in preserving biodiversity. We know that the path forward will be challenging. However, I am confident that, over time, the OP2B platform will transform existing food and agricultural models and achieve a significant, positive impact for both healthy people and a healthy planet."
Prior to OP2B, Firmenich has committed to biodiversity protection through the development of its Naturals Center of Expertise in Grasse where the company actively implements the Union for Ethical Bio Trade's (UEBT). Additionally, the company signed on to the Business and Biodiversity Pledge in 2016 for the Convention on Biological Diversity (CBD), and issued a public statement on biodiversity, embedding biodiversity protection and restoration measures throughout its business. Firmenich continues to participate in global initiatives towards climate mitigation and carbon neutrality since its involvement in the Climate Change Conference of 2015 in Paris.