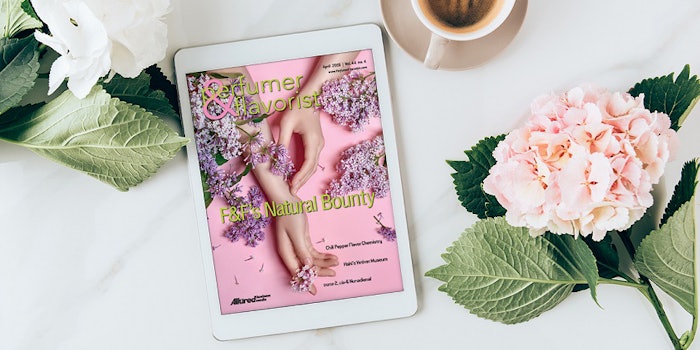 Spring has sprung in the April 2019 issue of Perfumer & Flavorist. In this issue, we examine the latest in natural ingredients, technologies and consumer trends that are impacting the global F&F market.
Available in a convenient, easy-to-read digital format, Perfumer & Flavorist's digital edition provides industry and technical insight to the flavor and fragrance industries. Some of the article that you might have missed in the April 2019 issue of Perfumer & Flavorist include:
Assessing the Sustainability of Natural Ingredients With LCA. Known as the Lifecycle Assessment, the LCA standard evaluates the environmental footprint of natural ingredients and can identify opportunities to improve the performance of products and services at various stages of its life cycle.
Haiti's Vetiver Museum. As Haiti wrestles with political instability and the aftermath of natural disasters, vetiver and its essential oil production can provide an economic opening for the country and an opportunity for the future.
There's Chemistry in Them Chili Peppers! This article describes the chemistry behind the flavor, aroma, and pungency of chili peppers to assist in flavor creation.
Delivered monthly, the digital edition of Perfumer & Flavorist is the quickest and easiest way to stay on top of all the flavor and fragrance industry news.