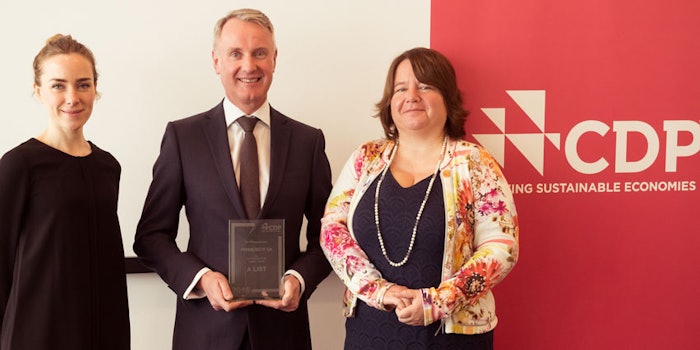 The Carbon Disclosure Project (CDP) has announced that Firmenich is the supply chain leader for the DACH regions, which include Germany, Austria and Switzerland. This award testifies to Firmenich's commitment to carbon emissions management.
"We are honored to be recognized as the supply chain leader in DACH, a region that includes some of the largest and most sustainable organizations in the world," said Gilbert Ghostine, CEO of Firmenich. "This distinction, on top of our ranking on CDP's supplier climate A list, acknowledges our commitment to keep on setting new standards of excellence in greenhouse gas management and lead the industry forward."
Supply Chain and Water Initiatives
Firmenich was ranked in the top three percent of "A list" companies on CDP's supply chain program. Among 4,300 companies, Firmenich was identified for its initiatives towards climate change mitigation. Through the CDP suppl chain program, the company assembled its key suppliers to disclose their climate and water performance data.
The company also joined CDP's Water Disclosure Program, scoring in the top two percent with a Leadership A- grade in managing water risk throughout it supply chain. Similarly, Firmenich hosted the Global Compact Network Switzerland's (GCNS) General Assembly last year to discuss water and sanitation solutions.
Neil McFarlance, senior vice president of quality, health, safety, security and environment, said, "As a leading supplier in the flavor and fragrance industry, we are committed to reducing our absolute CO2 emissions by 20%, obtaining 100% of electricity for our manufacturing sites from renewable sources or offsets, and reducing our rate of water use in water stressed areas by 25% by 2020."