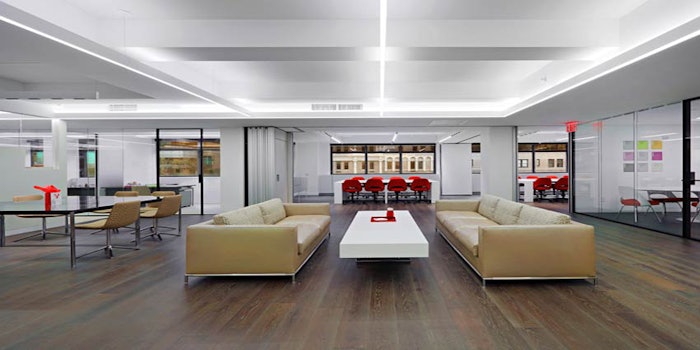 *All photos by Tom Sibley, Wilk Marketing Communications
Symrise's $3.75 million renovations are now complete under architect Montroy Andersen DeMarco (MADGI). The renovated studio and fragrance laboratory is located at 505 Park Avenue, at 59th Street in Manhattan.
Multifunctional Space
The space features high-end office and laboratory space for the company's various divisions: fragrance, flavorings, cosmetic active ingredients, raw materials, functional ingredients and sensorial and nutritional solutions.
MADGI consolidated the underutilized and outdated two floor space into a streamlined set of open-space offices on the 15th floor for 37 employees.
The studio space combines the central social area with the reception area, as well as multiple conference and meeting rooms, an open office section, seven private offices, a fragrance laboratory, a pantry, a privacy phone room, an IT room and an elevator lobby.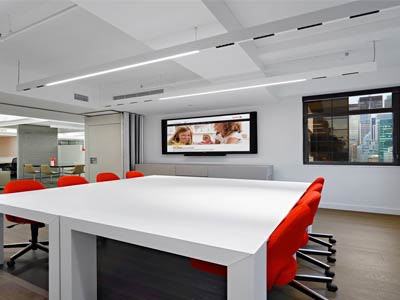 The main conference room is adjacent to the social space and located along the perimeter wall overlooking Park Avenue. It features two movable divider walls, one that opens into the social space/lobby and another partition that divides it into two smaller meeting space.
"Before the renovation, the sales force was on one floor and the perfumers were on another, preventing the easy flow of ideas," said Rhona Stokols, vice president, Symrise. "MAGDI gave us an optimized working space, helping us to flatten the hierarchy within the office while still providing for privacy needs in terms of meetings."
The space is designed to offer multifunctional use with sliding wall panels and adjustable furniture; such as the tables which can be folded along the walls or combined to create a larger boardroom-type table.
Separate and Sealed Laboratory
Separating the lab from the rest of the studio space was an important design factor in order to inhibit pollutants in the lab and prevent scents from traveling to other areas of the office. This was also achieved through separate HVAC systems.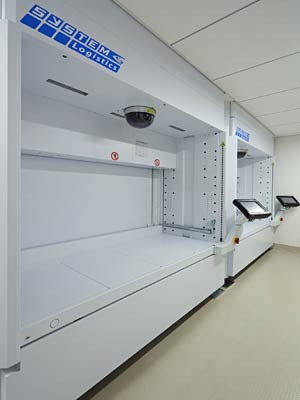 Two computerized Modula Sintes1.7 chemical component storage units are featured in the laboratory, providing access to 40,000 ingredient bottles.
Elizabeth Zagarello, project manager and designer, MAGDI, said, "The main design challenge was to help the client transition from a traditional corporate environment to an open collaborative plan, create maximum comfort, and find elements that will make it attractive. Another was separating the laboratory space from the administrative area, so that scents from one area do not impact the other."