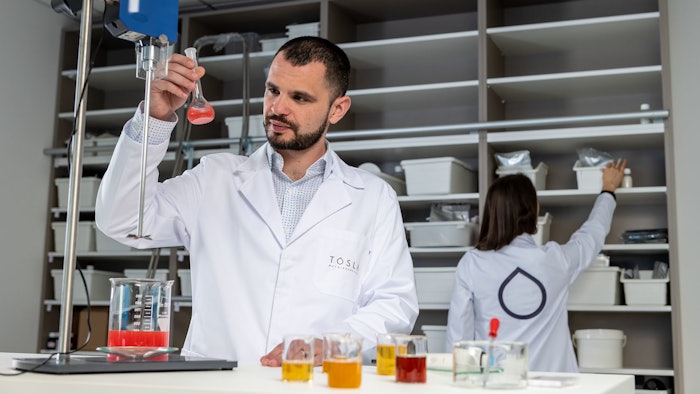 Tosla Nutricosmetics has created a proprietary masking technology, Velious*, designed to achieve maximum palatability. Velious is said to be the only currently known technology that gives liquid collagen products a more rounded and whole body and helps avoid the unpleasant occurrence of aftertaste. Perfumer & Flavorist+ (P&F+) has connected with chief innovation officer Uroš Gotar to discuss the masking technology, how it will impact the industry and the future of Tosla Nutricosmetics. 
P&F+: Can you please explain the technology for Velious Masking Technology? 
Uroš Gotar [UG]: Many healthy products and functional ingredients are often hard to swallow (and collagen is no exception), so capsules in food supplements are the predominant delivery format. Nutricosmetic is a fast-growing category that provides beauty benefits and is thus often perceived more as cosmetic than as a nutritional category. This category, however, requires a more luxurious format, such as liquid, syrup, or elixir. The Velious Masking Technology answers the question of masking collagen's unpleasant taste and odor. In liquid execution, taste becomes a crucial decision factor regarding disciplined use and repurchasing of products, which is vital for enjoying the most out of collagen.
 P&F+: What were/are some of the challenges that Tosla faced while creating this technology?
UG: The challenge was to mask the unpleasant taste and, even more so, the odor of collagen. Should we want to make a ready-to-drink product as convenient as possible, we have to dilute high portions of collagen into a small amount of liquid. This way, we can deliver a monthly dose of collagen in a smaller bottle, which is not larger than 500 ml. Most collagens on the market come in powder form because users can dilute a daily portion of collagen in a big glass of water. In this way, the taste and odor become less bothersome, although at the expense of non-convenience. We believe that that is not an optimal format for the beauty industry, where margins are high, and everything has to be neat and well thought through.
Another challenge was to make the technology simple enough to scale it to a cost-effective industrial level. Many solutions out there work on a lab scale, but we wanted to develop a solution we can successfully use in our products and market them.
 P&F+: What does this type of technology mean for the future of masking technology? 
UG: Most taste-masking technologies today are based on inhibiting bitter molecules' contact with taste buds. The Velious Masking Technology uses a different approach, which I cannot disclose due to the possible patenting of the technology. For now, we intend to keep the know-how in hand as we explore options to perfect the technology further and use it in more applications.
 P&F+: From your perspective, what does the future look like in terms of masking technology? Any untapped potential?
UG: We are currently testing Velious Masking Technology on different nutricosmetic products, not just collagen. There are many opportunities for the market to expand product-wise, and preliminary results of replicating Velious Masking Technology outside collagen are exciting. We observe that we can also successfully mask other active ingredients from nutricosmetics.
 P&F+: What does the future look like for Tosla in the F&F and/cosmetics space? Any projects or partnerships you can share?
UG: We've been developing ready-to-drink skin wellness products and perfecting their taste for over five years, but the timing that we're in right now has never felt righter. The lines between what we eat and cosmetics are blurring. Finally, our products are getting global recognition even from the big beauty brands, as they adopt a holistic, from-within approach to beauty. We already have a successful partnership with high-profile beauty companies, and a few exciting ones are in the pipeline.
More about Uroš Gotar
Uroš Gotar is a food science expert with almost ten years of experience in the industry. His daily tasks concern NPD of functional ready-to-drink formulations, especially those formulated with collagen.  Gotar has a vision of combining topical cosmetics with edible nutricosmetic and is passionate about closing the beauty and food industry gap.
*Velious is a trademark of Tosla Nutricosmetics.  
Want to know everything going on in flavor & fragrance? Sign up for P&F+'s newsletter. You can also follow along on Instagram and LinkedIn.