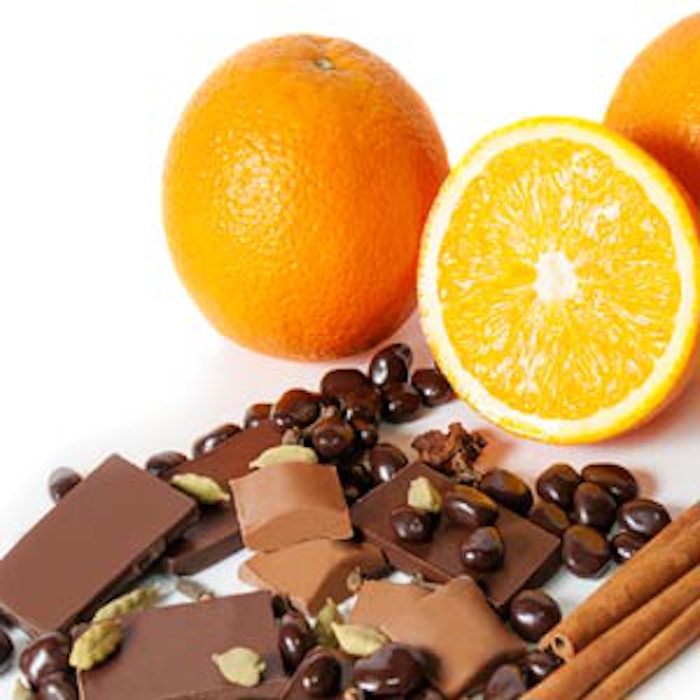 Flavorcon 2015 will include a supplier tabletop exhibition (see below), in addition to several sessions focused on materials for the flavor industry.
John Wright will lead a tasting/smelling session of interesting aromatic materials and discuss their application in flavors, while Judith Michalski (abelei flavors) will lead an interactive ingredient tasting panel for novel flavor materials.
Products Michalski will present include 2-pentyl thiophene (FEMA# 4387), 1-(2-furfurylthio) propanone (FEMA# 4676), 4-methyl-2-(1-phenethyl)-1,3-dioxolane (FEMA# 4595) and ethyl-4,7-octadienoate (FEMA# 3682), among others.
Giovanni Battistini (Firmenich) will discuss the delivery of taste and nutrition with sustainable marine protein hydrolysates (MPH), or marine peptides. Emerging science is showing how MPH, in very low concentrations, can complement whey proteins to enhance their nutritional value and functionality—as well as effectively manage post-prandial glycemic index, support muscle growth and recovery, and even improve and prolong satiety.
Finally, the Flavorcon tabletop exhibition will include:
Bedoukian Research
Berje Inc.
Bontoux Organics, Inc.
Citrus and Allied Essences Ltd.
Cosun Biobased Products
DuPont Tate & Lyle Bio Products
Firmenich
Florida Chemical Company, Inc.
Formulator Software LLC
Fruatrom F&F Ingredients
Gusmer Enterprises, Inc.
JNC America Inc.
Kalsec
Müller USA / AIC
Natural Advantage
Natural Taste Consulting
Omega Ingredients Ltd.
Renessenz
Robertet
Rudolph Research Analytical
Senomyx, Inc.
Shank's Extracts, Inc.
Sigma - Aldrich
Teawolf
As of August 2015; for latest additions, visit www.flavorcon.com/sponsors
Presented by Perfumer & Flavorist magazine, Flavorcon 2015 (www.flavorcon.com) includes a tabletop exhibition in addition to in-depth conference sessions from leading industry experts. The conference is uniquely tailored for professionals involved in the development of flavors and food & beverage products. Registration is now open.

    Dates: November 15–17, 2015
    Location: Borgata Hotel Casino & Spa in Atlantic City, New Jersey