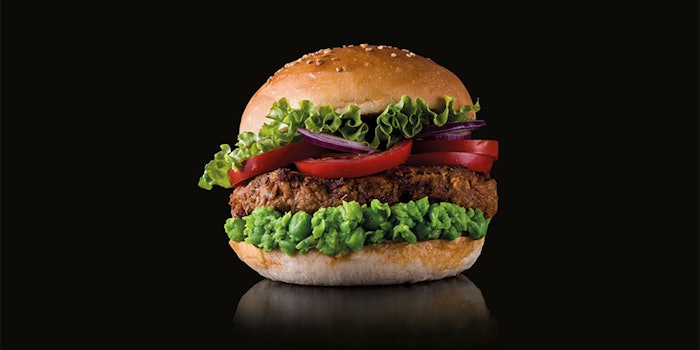 Perfumer & Flavorist had the opportunity to gain some insights into Naturex's newest products—Vegebrite, a new line of herbal tea concentrates and TurmiPure Gold—by speaking with three of the company's product managers: Nathalie Pauleau, global product manager, natural colors; Romain Thevenot, global product manager, botanicals for food & beverage; and Alexis Manfré, global product manager, TurmiPure Gold.
Vegebrite
Vegebrite is a natural, vegetable-based coloring food used to create color realness in plant-based meats, both raw and cooked.
Perfumer & Flavorist [P&F]: Why is color so important when developing plant-based meat products?
Nathalie Pauleau [NP]: Meat has a distinctive color when grilled—and although taste is very important when developing meat substitutes, people also 'eat with their eyes' so, it is important that the appearance of a substitute matches that of grilled meat as closely as possible.
That's why we have developed Vegebrite Veggie Reds natural color solution for meat substitutes. It is a new "coloring food" obtained from beetroot and other natural extracts. It can be used to achieve an authentic, fresh meat-like red color in meat substitutes and particularly in raw and cooked patties. In meat-free burger patties, the blends undergo a color transformation during the cooking phase, turning a brown color that closely mimics grilled meat. Using different formulations to accommodate a wide range of applications and regulatory requirements, our application team is achieving the right colors for these very complex food matrices.
[P&F]: Do these coloring products have any impact on flavor?
[NP]: Coloring foods are made from an edible plant source (for example carrots, or in the case of Vegebrite Veggie Reds, beetroot) obtained using gentle processes, with no selective extraction of the pigment. They have no impact on flavor and have no limit on their use in formulation.
Herbal Tea
Naturex's new line of herbal tea concentrates are made from botanicals widely known for their wellness supporting attributes.
[P&F]: What are some of the more popular or in demand additional effects and benefits that consumers are looking for in their RTD beverages? Do you find the benefits and effects have a greater draw than flavor? Or do the two need to harmonize?
Romain Thevenot [RT]: Our new line of brewed herbal tea concentrates for relaxation are gently water extracted, allowing for a clean label declaration. Available botanicals include chamomile, hibiscus, elderflower and lavender.
We know that certain plants have been traditionally used for specific properties, and that people all over the world are aware of these traditions. We know that the sustainable approach, the taste, as well as the stories behind these botanicals make them attractive to customers.
While we don't use these ingredients to address health issues, we do offer consumers a wellness experience with a product that's different, clean, sustainable and fresh tasting.
Our products help premiumize and differentiate food & beverages by bringing consumers on-trend botanicals traditionally associated with wellness. We focus on simplicity, clean labelling and the authentic taste of plants.
TurmiPure
TurmiPure is a bioequivalent turmeric that allows for more of the beneficial curcuminoids to be absorbed, resulting in a decrease of required material and lower dosages to achieve the same effect. It has recently received GRAS status. 
[P&F]: What kind of impact do you see the new GRAS status having on the availability and use of TurmiPure?
Alexis Mafré [AM]: We were very pleased to receive the GRAS designation, allowing us to bring the benefits of TurmiPure Gold to the U.S. Food & Beverage industry. We are looking forward to partnering with our customers to create exciting new products as we believe the possibilities are truly limitless.
Formulated for easy incorporation in food and beverage applications, TurmiPure Gold, which is also available in an organic certified grade, provides instant water-dispersibility, a low effective dose, neutral taste and appealing color. In addition to the United States, TurmiPure Gold is also available in Latin America and Asia Pacific, and it will be available in Europe in the coming months.
[P&F]: Turmeric has been a major trending ingredient as of late, what makes it so special?
[AM]: Turmeric has long been associated with health benefits, particularly in India, where it's been used for more than 5,000 years as a spice and medicinal herb in traditional Ayurvedic medicine. Turmeric's properties continue to be recognized today and many of its benefits are now backed by modern science. Healthy aging and joint health are at the top of the list of benefits associated with this star ingredient. These include combating loss of mobility, cognitive decline and liver conditions.
The past five years have seen a massive growth in demand for turmeric in the US, with demand also growing in Europe and emerging markets. The challenge has been to meet consumer needs for convenience, clean label and efficacy at a low dose—and we have achieved this with TurmiPure Gold.
Just 300mg of TurmiPure Gold delivers more curcuminoids in the blood than 1,500mg of the industry standard. It's the first turmeric to offer such high bioavailability at such a low dose. It's a genuinely important innovation because bioavailability has long been a challenge with turmeric. By offering a product with such high bioavailability at such a low dose, we're making the benefits of turmeric more accessible than ever before.