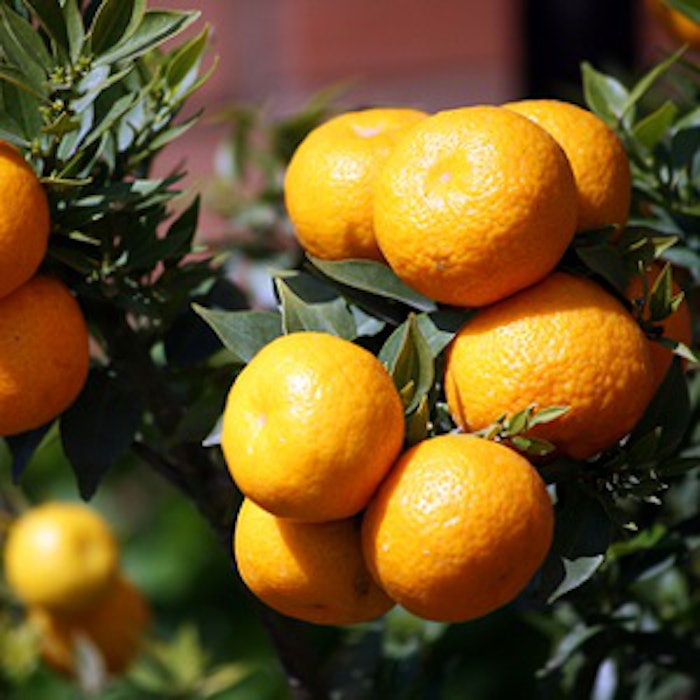 The myrtle leaf orange is considered a botanical variety of the bitter orange (Citrus aurantium var. myrtifolia), but there are some who believe it either should a) be promoted to the rank of species (Citrus myrtifolia Raf., Tanaka Classifi cation), or b) be equated to the Citrus aurantium L. as a subspecies.
Plant: The plant is farmed in Italy, particularly in Liguria, near Savona, between Finale Ligure and Varazze, with an annual production of 20-30 quintals (about 4,400- 6,600 lbs); small orchards also are present in Sicily and Calabria. The plant has the appearance of a small bush with thornless branches loaded with small dark green elliptical leaves. The bush is characterized by limited growth of between 1-2 m. The fruit, picked between December and March, is spherical but rather fl at at the base; it has a very thin, fragrant skin of a color similar to that of the mandarin. Its endocarp, divided into eight to 10 segments, contains small seeds and a small quantity of bitter acidic juice.
Varying applications: The small fruits — usually about 3 cm in diameter — are picked unripe in December and used in the production of so-called "chocolate Boers" (liqueur-fi lled chocolates with a small candied fruit inside). The larger ripe fruits are picked in February and March; they are too bitter and acidic to be used fresh, although their juice can be applied in jams, prepared as candied fruit or added to syrup. The candying process, which transforms the fruit into a bittersweet delicacy, involves a process called "turning," in which the thin epicarp is removed and the fruit is boiled in syrups with increasing concentrations of sugar.