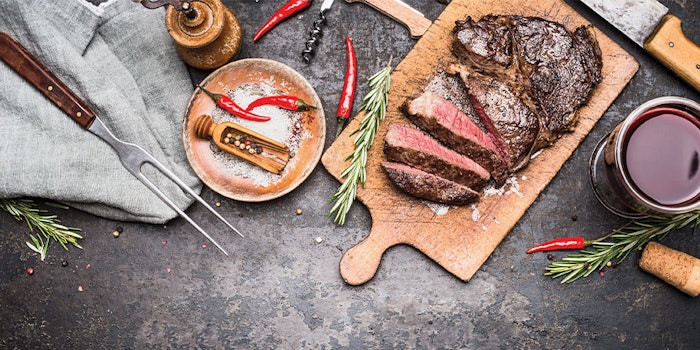 2-Methylthiophene is one of the most interesting additions on the new GRAS list (FEMA# 4928, CAS# 554-14-3). Thiophene compounds, as a chemical family, have been a little slow to gain acceptance amongst flavorists. One reason is that they often possess aromas that are quite difficult to fit in familiar boxes. 2-Methylthiophene is no exception. I would describe the character as roasted and meaty, but it also has, to me, a definite petroleum note. Some evaluators also detect onion, green and cabbage notes. Quite a smorgasbord! This complexity has its benefits. 2-Methylthiophene, at generally low levels, can significantly brighten and add realism to an unusually wide range of flavors without becoming obtrusive.
Note that the dose rates given throughout this article are the levels suggested for use in flavors intended to be dosed at 0.05% in ready-to-drink beverages or in a simple bouillon.
Savory Flavors
Bacon: One of the biggest challenges facing flavorists working on meat flavors is the fact that many of the most characteristic components tend to stick out. This gives flavors an artificial aspect which is hard to disguise. Bacon flavors are especially susceptible to this problem. 2-Methylthiophene lifts and adds complexity to the profile of bacon flavors at 20 ppm.
Beef: A slightly higher level, 30 ppm, performs a similar function in beef flavors, working equally well for boiled and roast profiles.
Chicken: Complexity is commonly added to chicken flavors by using process flavors. 2-Methylthiophene is, nevertheless, an extremely useful addition at levels in the region of 50 ppm, adding realism and impact.
Crab: 2-Methylthiophene is effective in all seafood flavors and is particularly useful in the rather elusive profile of crab. Levels of addition can vary, depending on the other ingredients, but 10 ppm is a good place to start.
Ham and Pork: This ingredient is notably successful in all ham and pork flavors, particularly the Spanish specialty "chopped pork." Forty ppm is effective in most profile categories.
Liver and pate: Liver flavors can be excessively sulfurous and it is wise (but not essential) to limit 2-Methylthiophene to around 10 ppm in this flavor category.
Lobster, prawn and shrimp: 2-Methylthiophene adds authenticity to all these shellfish flavors at around 20 ppm. It is particularly effective in fried shellfish profiles.