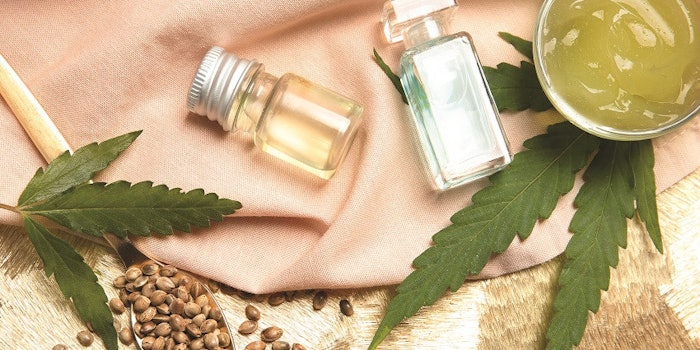 With the recent passing of the Hemp Farming Bill Act of 2018 by U.S. Congress, industrial hemp will be legalized provided the President signs it into law. Its legalization opens up avenues for hemp and cannabidiol (CBD) formulators within the wellness sector. According to the bill, hemp containing less than .3% of the psychoactive compound, THC, is legal to produce.
As recreational use of cannabis and hemp products continue to grow, the interest in CBD-infused products grows with it. By 2020, the hemp and CBD category are expected to be a $1 billion marketa. Known for its non-psychoactive properties and calming claims, CBD's use in cosmetics and foods in the United States and Europe are still an area of cloudy legislation by federal governments. While the FDA prohibits CBD in food and beverages due to its medicinal properties, the federal organization approved a CBD-based medicine to treat epilepsy in June 2018. In Europe, CBD is considered a novel ingredient for food and beverages, and health claims on the label are restricted, making it difficult for formulators to address any benefits on the label.
Functional Benefits and Consumer Demand
Due to the shifting regulatory landscape of hemp and marijuana-derived products, businesses are encouraged to exercise caution in promoting health claimsb. According to Mintel's report on the CBD category, social media is the leading platform to market CBD products and promote benefits. On Instagram, the hashtags CBD, cannabis and hemp have 4.5 million, 15.4 million and 2.5 million posts respectively, with posts focusing heavily on wellness claims that alleviate pain and anxiety. Due to legislative restrictions, companies are relying more on positive stories from consumers surrounding CBD wellness claims.
According to the National Institute of Drug Abuse, CBD's wellness aspects are wide-ranging, treating general aches and pains from fibromyalgia, Parkinson's, arthritis, tumors, anxiety, cancer, Alzheimer's and stroke. Target CBD consumers include millennials, gen Z and the elderly who are moving away from painkillers.
The February 2018 issue of Perfumer & Flavorist looked at how the edibles market was expanding the way consumers experience flavor. Aside from its psychoactive properties, the unique flavor and aroma combinations from cannabis' terpenes offer a sensory experience for consumers. According to Forbes, the cannabis market is expected to reach $57 billion by 2027, and 40% of that growth will come from CBD according to the Hemp Gazettec. Recreational use in the US will lead sales, with California, Massachusetts and Canada influencing international laws to increase access to medical cannabis. Across the Atlantic, Europe's $1.3 trillion budget in health-care spending has potential to open up medicinal use.
CBD, with its non-psychoactive properties, veers away from recreational use and into the medicinal category. Hemp-derived CBD is coveted for its anti-anxiety and anti-inflammatory properties. While THC binds to cannabinoid receptors to trigger psychoactive properties, CBD indirectly influences receptors that affect how the body responds to pain and anxiety. Cannabidiol, the non-psychoactive molecule is extracted from leaves, resins and flowers. It's found in non-alcoholic wine, water, beer, kombucha, and cold brew coffee; as well as beauty products, pet care, sport creams; and now in the anti-seizure medicine, Epidiolex, which was recently approved by the Food and Drug Administration (FDA). According to the USDA, one in eight Americans (45 million) depend on the medication.
The demand for functional beverages is evident in the companies that are either acquiring start-up CBD brands or formulating on their own. The most popular categories within RTD are enhanced waters, coffee and tea, soda and juice, and beer. Beverage powerhouses like Heineken, Coca-Cola, Constellation Brands, Molson Coors Brewing have taken steps towards developing cannabis and CBD-infused beverages. But the stakes are high, and until federal and state legislative frameworks are solidified, manufacturing to market is cooled.
While legislation surrounding hemp in food, beverages and cosmetics continue to evolve, educating consumers on the range of cannabis ingredients is an ongoing effort by brands in operating in legal markets. As legislation frameworks are clarified, P&F will take a closer look at flavor formulation challenges and innovations within the RTD and food categories.