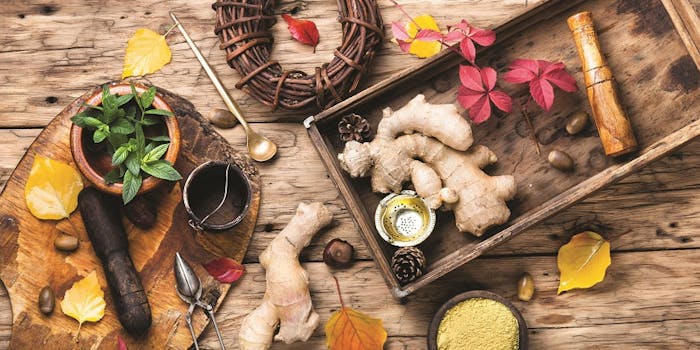 Whether it's garnishing a plate of sushi or adding that extra detail to a craft cocktail, ginger has emerged from a spice that was used in remote parts of the world to a flavor that is widely appreciated today.
Today, ginger has emerged as both a popular flavor and a sought-after scent, making its way in everything from beverages, snacks and dog food products. According to a Transparency Market Research report, the global ginger market is expected to reach a value of $4.18 billion by the end of 2022, growing at a CAGR of 6.50% between the years of 2017 and 2022. Leading the growth in the market is it use in culinary and product applications. In North America and European markets, ginger will be increasingly sought after for its functional and medicinal benefits, which will further grow the market
Around the Globe
Historically, ginger (Zingiber officinale) was largely used for medicinal and culinary purposes. The herbaceous plant is believed to originate from the tropical rainforest and lowlands in the Indian subcontinent and southern Asia. Later, the plant spread to Mediterranean regions in the first century. By the 11th century, it was well known in England and later brought to the West Indies and Mexico by the Spaniards. In the course of a century and a half, the plant has made it from one corner of the globe to the other.1
"Ginger has had a firm foothold in regional cuisines in Asia for thousands of years, especially India and China. This savory use of ginger has spread globally through travel, fusion restaurants and more innovative regional cuisine. This accounts for some of the increased market for ginger flavors, but it is not the main factor," explained John Wright, flavor consultant  and Perfumer & Flavorist advisor.
Part of the Zingiberaceae family, ginger can grow under both irrigated and rain-fed conditions with the ideal altitude of 1,500 meters above sea level in warm and humid climates. The ginger itself comes from the plant's rhizome (its roots). Generally taking eight months to harvest, ginger harvest is ready when the leaves on the plant start yellowing and drying. After the plants are harvested, the rhizomes are separated from the leaves and are then cleaned and cured. The curing process involves washing the root in water and leaving it to sun-dry for a period of time.2
Though ginger has gained widespread use, the top producers of the crop are largely located within Asia and Asia Pacific regions. The largest producer of ginger is India which produced 799.9 thousand tons in 2015. The second largest producer of ginger is China with 552.3 thousand tons in the same year, while Indonesia was number three with 268.6 tons.3
"Many of the components of ginger aroma and taste are simply not available as single chemicals ... At most a flavorist can shade the profile a little with careful additions." 
Ginger Flavors Applied
Ranging subtly in taste and intensity based on species, ginger is generally characterized as a combination of citrus, soap and musty earth flavor notes with a pungent and aromatic olfactive profile. Though some natural products can be replicated with reliable accuracy, ginger doesn't fall into this camp and whether it is fresh or cooked the composition is complicated.
"Many of the components of ginger aroma and taste are simply not available as single chemicals. The composition of ginger is very complicated and most ginger flavors on the market are solidly based on natural ginger essential oil and ginger extracts. At most a flavorist can shade the profile a little with careful additions," said Wright.
In its fresh state, ginger is largely comprised of zingiberene, which attributes to 30% of the root's essential oil. ß-sesquiphelandrene and ar-curcumene attribute to the characteristic flavors of ginger, while its pungency is attributed to gingerols. When it's cooked, the story and composition of ginger changes. Cooking the ginger produces zingerone, a less pungent chemical reminiscent of gingerbread. In addition to zingerone, the cooking or drying process can produce shogaols. This chemical is twice as pungent as the gingerols and tends to deliver a greater pungency than fresh ginger.4
The most common way to produce ginger essential oil is through steam distillation. According to an AIP reporta, the best operation condition was 0.35 ml/s where the steam flow rate yields 2.43% oil with the optimum time process predicted at 7.5 hours. Depending on steam flow, the composition of the oil varied. At increased steam flow rates, the curcumene composition in the oil increases, while the composition of camphene decreased.
Ginger can also be extracted with methods such as Soxhlet extraction, ultrasound assisted and autoclave agitator, with varying degrees of performance. In a review of these methods in the International Journal of Advances in Science Engineering and Technology journalb, studies found that the Soxhlet extraction method with acetone proved to be the most effective method of producing ginger extract, yielding 28.5 ml over the course of one hour. The resulting product is typically a bit flatter and duller than distilled essential oil but can be partially overcome by blending in some of the essential oil.
Since ginger flavors are hard to replicate, they end up being a blend of the essential oil for its aroma and extract for its heat. Depending on the application, the quantity of each will vary. In beverage flavors, the emphasis is placed on the essential oil, while bakery and snack applications emphasize the extracts. For beverage flavors, many of the components of ginger oil are not soluble in water at the level that they are needed.
Functional Frontiers
Historically, ginger has been used to aid in digestion and improve overall gut health. Products like ginger beer, ginger ale and gingerbread are known for its stomach-settling qualities. More recent research has begun to unfold some of its other benefits.
"For centuries, ginger has been a source of functionality, flavor and culinary inspiration. In the past decade though, ginger has emerged in more sophisticated ways and in a variety of product formats."
In a Journal of Pharmacognosy and Phytotherapyc review of the benefits of ginger, the plant has been shown to provide a range of benefits, including gastrointestinal, cardiovascular and anti-inflammatory effects. Ginger is particularly useful in gastrointestinal health and has shown benefits in treating peptic and duodenal ulcers. Other studies in the review confirmed its role in treating nausea and sickness. Gingerols have pharmacological benefits and are effective in treating nausea due to chemotherapy and the FDA have classified ginger as a sage treatment for morning sickness in pregnant women. Other benefits according to the review include treating headaches and fungal diseases and improving insulin sensitivity.
Other research has shown that ginger can also be used to promote a strong immune system, provide anti-oxidative benefits and even possibly offer relief for diabetics. In an International Journal of Preventive Medicined review, ginger's health and physical benefits were outlined. During the process of oxidation in biological systems, some free radicals are produced; however, increased production of free radicals can lead to DNA and skin damage. Shogaols have been shown effective in providing antioxidant benefits, which can address free radicals. Gingerols, shogaols and other ginger substances also provide immune system support. These compounds can inhibit prostaglandin and leukotriene biosynthesis, which is a key factor in inflammation. Other research has shown that ginger can be effective in treating diabetes and its complications. In a Weidner and Sigwart study referenced in the review, ginger significantly lowered blood glucose in rats with diabetes, while another study showed that the ethanolic extract of ginger can help reduce body weight and levels of glucose, insulin, LDL cholesterol, free fatty acids and phospholipids in high-fat diets.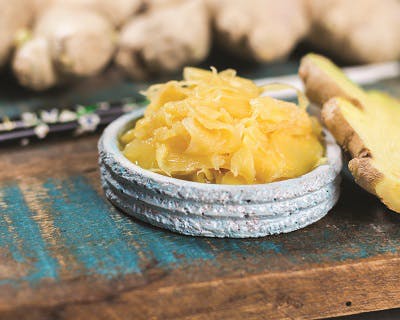 Originally used only in select beverages and baked goods, ginger has now emerged in everything from dog food to sparkling beverages.
From Beverages to Dog Food
For centuries, ginger has been a source of functionality, flavor and culinary inspiration. In the past decade though, ginger has emerged in more sophisticated ways and in a variety of product formats, including beverages (outside ginger beer, ales or tea) and dog treats.
One of the largest growing uses of ginger is in beverage products. According to a Think With Google reporte, U.S.-based searches for ginger beverages increased 30% year-over-year in 2017. Coupled with the health and natural trends, ginger has started to appear in a variety of sparkling waters, juices and sodas. Beverage brand Sparkling Ice offers a ginger lime naturally flavored sparkling water, while Sparkling Oh! offers a similar ginger sparkling water with zero calories and sugars. In the hybrid beverage category, Dry Soda sells a ginger sparkling soda and Zevia offers a mango and ginger sparkling energy drink created with natural flavors.
An emerging area for the use of ginger has been in the dog food and treat market. A variety of ginger products have been released with natural and digestive benefit claims. Dog food brand Cloud Star offers a naturally flavored functional pumpkin and ginger dog treat, while Canadian brand Zoe offers a naturally flavored pumpkin and ginger soft chew treat. Taking a functional twist on ginger dog treats, Thunder Wunders offers calming chews for dogs, which include chamomile, passion flower, ginger and natural flavors.
With the diversification of flavored products and an increase in its use for functional benefits, ginger has started the next chapter in its over 2,000-year-old story.