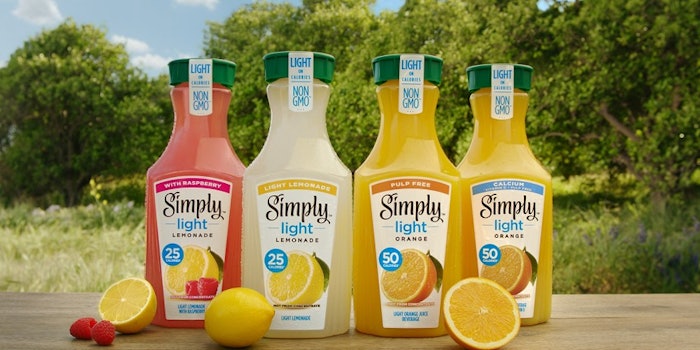 Clean beverage brand Simply Beverages have released its line of light beverages called Simplya Light.
Similar to its other products, the line of new beverages will contain non-GMO ingredients with fewer sugars and calories. In addition, the line of beverages will come in four flavors and include a pulp-free orange juice, an orange juice with calcium and vitamin D, a light lemonade and a lemonade with raspberry.
"Today's consumers want a variety of beverage options that help them maintain a well-rounded, healthy lifestyle without sacrificing taste – which is why Simply is a leader in the category," said Kelly Marx, Simply Beverage brand director. "Simply Light allows everyone to enjoy the delicious Simply taste, with the benefit of less sugar and fewer calories in Simply Light Orange and Simply Light Lemonade."
a Simply beverages are trademarked.