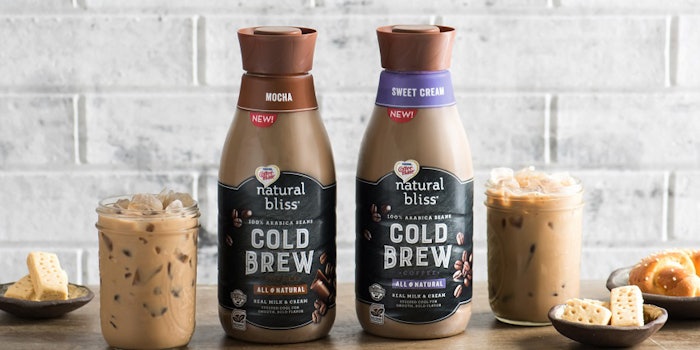 Nestl� USA
Coffee-mate'sa natural coffee creamer line, natural blissb, has released a line of RTD cold brew coffee.
Similar to the Coffee-mate natural bliss creamers, the cold brew coffees are created with natural ingredients and flavors. Additionally, the beverages are non-GMO, kosher and gluten-free and will be available in either sweet cream and mocha flavors.  
"Cold brew consumption has risen 80 percent in the last year and we saw a great opportunity to expand our product portfolio into the ready-to-drink space to further meet consumer demands and lifestyles," said Avantika Chakravorty, manager of marketing for RTD coffee. "We first introduced our cold brew coffee to the West Coast last year to great success and are looking forward to sharing it with consumers nationwide. Increased consumer demand partnered with our all-natural ingredient list gives consumers the premium coffeehouse experience [that] they can enjoy anywhere."
a-b Coffee-mate and natural bliss are registered trademarks.