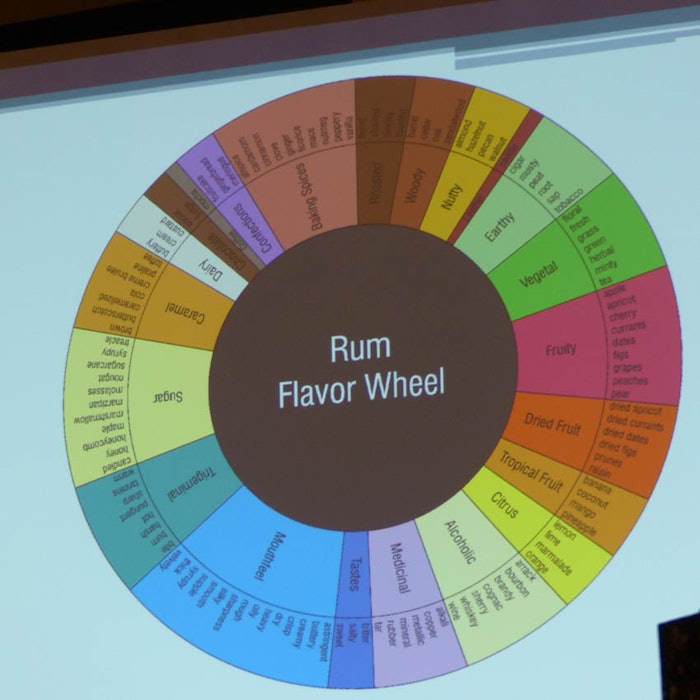 By Shane McDonald, media chair, Society of Flavor Chemists
The April 20th Society of Flavor Chemists (SFC) meeting at the historic Cincinnati Netherlands Hotel attracted a near record 112 attendees to learn about the vanilla industry, artisanal chocolate and rum flavor chemistry.
Adjusting to a Volatile Vanilla Market
The first presenter was Naushad "Nash" Lalani, co-founder of Sentrex Ingredients. "Vanilla – Flower to Flavor" presented samples of vanilla beans from various places and briefly described the process for growing and extracting vanilla. He then talked about the current shortage of vanilla extract. This happens cyclically, with the last surge in the 2000s due to hurricanes and political instability in the major growing region for vanilla beans: Madagascar. Prices eventually dropped as vanilla extract customers switched to vanilla flavor blends which reduced demand for extracts. Prices dropped so low that farmers started to move to alternative crops. 
Reduced planting and production and another hurricane caused prices to increase. However, the big change was when the large consumer food product companies, bowing to consumer pressure, started demanding "pure" vanilla extracts rather than compounded flavor blends. In the vanilla market, high prices actually lead to decreased quality of extracts.
Nash said that the extreme cycles in vanilla extract supply and pricing will continue unless changes are made. He proposed that agricultural processes such as plantation growing of vanilla beans, breeding of beans to improve yield, flavor, and disease resistance, and cooperative processing with modern technology will allow supply to meet increasing demand while improving life for the family farmers in Madagascar.
Chocolate: From Bean to Bar
The next speaker was Paul Picton of Maverick Chocolate, a small artisanal chocolate maker in Cincinnati.  His presentation was "Chocolate, From Bean to Bar." Picton is a former aeronautical engineer who used to travel the world and pick up chocolate. When he retired, he needed a new source of chocolate so he started making his own. He wants to make chocolate manufacturing like wine making, taking advantage of various terroir and chocolate growing regions, etc.
He imports the cured beans and begins the chocolate making process with bean roasting.  Most of his chocolates have only two or three ingredients, and consist mostly of dark chocolate but, his best seller is a milk chocolate. He gave out samples of chocolate to taste made from beans from two regions of Peru, one from Ecuador (probably home of the original cocoa plant), and one from West Africa.
The Complexities of Rum
The final speaker was Chelsea Ickes, a PhD student at the University of Illinois at Champaign-Urbana working under Dr. Keith Cadwallader.  She is the 2017 recipient of the 2017 SFC Jaggard Scholarship.  Her presentation was "Rum to Yum." 
She started with a brief history of rum and a description of its processing.  Rum is a complicated product made from fermenting and distilling sugar cane or molasses, followed by aging, usually in barrels. Her study analyzed a dozen samples of white, gold and aged varieties of rum.
The objective was to find the differences in flavor of rum.  She "Googled" rum descriptors and used a program to select rum descriptors and their relative frequency, creating a "word cloud". From this, she created the first "Rum Flavor Wheel." Once the descriptors were established, the panelists went back and evaluated the rums, and made some tweaks to the wheel.
She is now working on determining the key flavor components of rum using gas chromatography/olfactory analysis and aroma extract dilution analysis.  She had determined that most rums have the same flavor compounds, just in different ratios. A lot of the variation is the amount of Maillard products and wood-derived flavor compounds absorbed into the rum while barrel aging. She has a list of the most important flavor compounds and put them in a principal component analysis plot. The final step for her will be chemometric analysis.
The meeting ended with the SFC business meeting and social hour.