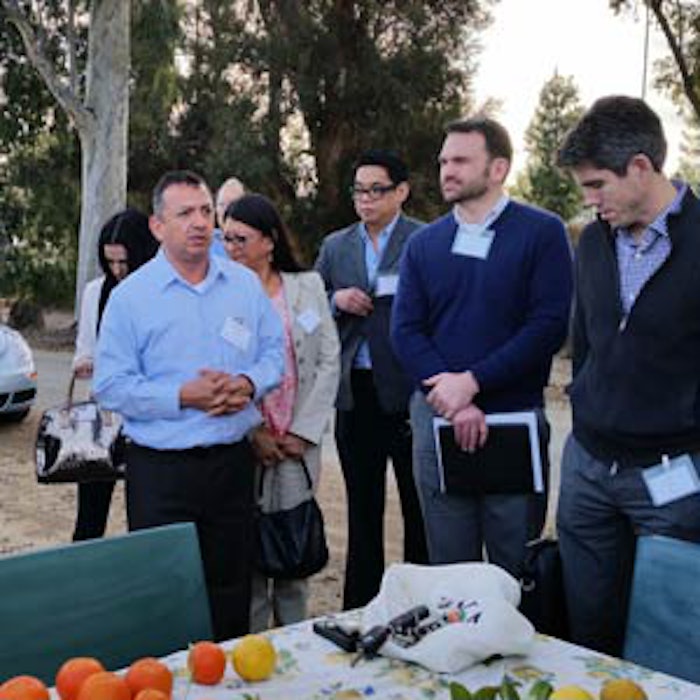 The Society of Flavor Chemists meeting consisted of a morning tour of the UC-Riverside Citrus Variety Collection in Riverside, CA. followed by an education program in Los Angeles.
Morning: A Tall Glass of the Citrus Variety Collection
We knew we were nearing our destination when we were overtaken by vast citrus groves. We were greeted by Dr. Tracy Kahn, curator of the UCR Citrus Variety Collection. Kahn had before her a table with a cornucopia of citrus varieties. For the next hour and a half we were taken on a virtual tour of the history and future of citrus, as well as an outdoor tour of the groves, where over 1,000 varieties of citrus—from the usual lemons and oranges to citrons and pomelos—are grown and cultivated.
Citrus originated in Asia, spreading around the world, with new varieties developed by cross-breeding and mutation. The citrus industry has a responsibility to protect genetic diversity; fight scourges, such as greening disease and climate change, as well as cultivate new varieties of different flavors and aromas.
It was a feast for the senses, tearing into the peel and flesh of the vastly different fruits bred from the same genus. Dr. Kahn discussed rootstock, cultivars and germplasm. It was remarkable to see how easily hybridized these trees are and how, with a touch of naturally occurring solar radiation, a mutation of one branch can lead to such an incredibly drastic change in the appearance, smell and taste of the fruit. For example, we tasted a lemon without characteristic sourness which closely resembled the sweetness of orange.
Afternoon: Cheers to Citrus and Beer
Pia Henzi, of MCI Miritz kicked off with a particularly gloomy forecast for the orange market, which was reiterated by Lee Beuk from Frutarom's citrus specialties division. Greening disease, hurricanes, and climate change have all impacted the production of citrus around the world.
Next, Dr. Kahn provided an in-depth survey of the history, biology and chemistry of citrus entitled, "Beyond Oranges, Lemons and Grapefruits." She described the four original basic species and how each hybrid's diversity—shape, size and flavor—evolves from those four species. Dr. Kahn also discussed the birth of the UCR-citrus collection to serve the local growers with technological resources, maintain genetic diversity in its collection and develop new varieties.
Givaudan's global product manager, Dawn Streich discussed the partnership between UCR and Givaudan for their TasteTrek citrus program. This program allows Givaudan to explore new and unusual citrus varieties in the UCR collection.
Jim Llano of UCR described their corporate and strategic partnerships, where businesses can tap the research capabilities of UCR, as well as access to the Citrus Varieties Collection.
Dr. Georgios Vidalakis of California's citrus clonal protection program closed with a warning against the alarming spread of citrus diseases. He explained the model they are employing for the management and mitigation of the diseases.
The afternoon finished with an informative session, "Citrus in Beer," given by Tom Nielson, the manager of raw material development and quality for Sierra Nevada Brewery.