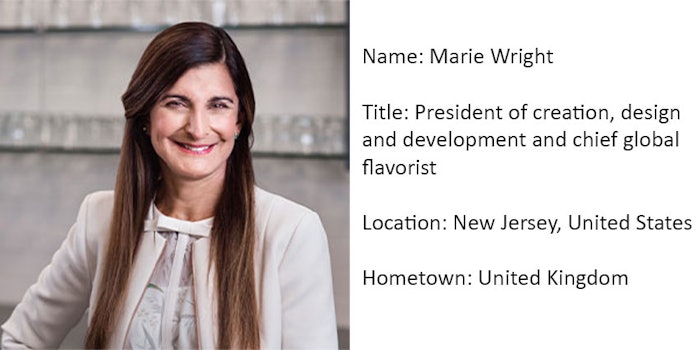 Perfumer & Flavorist+ [PF+]: What led you to the flavor industry?
Marie Wright [MW]: I have a deep-rooted love for food, flavor and aromas. My father was Turkish, and my mother has Italian heritage, so I was always exposed to a wide range of interesting flavors through our homemade meals with lots of herbs, which are incredibly aromatic. We spent summers in the south of France, close to what is considered the fragrance industry capitol—Grasse—which gave me an even larger awareness about scent and aroma.
As I grew up, I found I had a great talent for chemistry, which led me to study food science and chemistry at King's College London and start a career in analytical research. However, my heart always drew me towards being a perfumer or a flavorist. This passion led me to apply to a fragrance and flavor company for a marketing job in the hopes I would be able to wheedle my way into creating fragrances and flavors instead. Fortunately, during the interview, I was offered the opportunity right then to be a perfumer or a flavorist.
When choosing between the two, it was hard not to be attracted by the glamor and sophistication of fragrance, however, being the scientist that I am, I loved the idea of making something and then being able to judge it because it's real and inspired by nature rather than something whimsical. Ultimately, I chose to be a flavorist because of my desire to create healthy and delicious food that can feed the world. This is one of the many reasons why I love working at ADM today because I believe we are committed to bringing nutritional, great-tasting food to people around the globe.
PF+: What applications do you primarily formulate for? Do you have a favorite?
MW: I am a cross-category flavorist, so I'm capable of making any type of flavor, including sweet, fruit or savory across all market segments in foods and beverages alike. I also formulate flavors for the nutraceutical space, which I quite enjoy as I like to flavor food that is good for you and has wellness benefits. I love the versatility of what I do, and it's exciting to make sweet flavors one day and savory the next. However, if I had to choose one segment of flavors to solely work on, I would pick savory because, frankly, it is much more challenging and makes for interesting formulations.
PF+: Where do you find inspiration?
MW: My inspiration comes from my experiences, my travels and meeting new people and, of course, I am a foodie. My time spent learning about different cultures, music, art and architecture all provide a wealth of creative resources I can pull from. As a flavorist, it is also incredibly important to be open to new ideas and try new foods, fruits, herbs, spices and beverages. Tasting a new dish at a restaurant or smelling ethnic spices at markets all over the world help develop an eclectic and diverse palate.
Of course, this year, our experiences have been a little limited. Truth be told, even before the global pandemic, I find myself most inspired when I'm exercising and running by the sea. The fresh air and smell of sea salt gives me the mental clarity to work through a formula to create appealing new flavors.
PF+: Describe yourself in 3 ingredients.
MW: It's so tough to choose just three ingredients because there are so many extraordinary ones to choose from! However, the three that describe me best are among some of my favorite flavors.
The first ingredient I would describe myself as is davana oil, which is the steam distilled oil from the Indian grass or herb and has several layers of flavor. I consider myself a very layered person in terms of both complexity and elegance.
I would then add on the nutty flavor of 2-acetyl thiazole, because I also find myself to be rather nutty. I think you do have to be a little out there, or nutty, if you want to create because you need to have out-of-the-box thinking and be unafraid to take risks. At the end of the day, I find that truly great flavorists are the ones that can laugh at themselves.
Finally, I would also describe myself as neroli oil. It has a unique aroma and, on the surface, has an elegant cologne note of bergamot and lavender. Underneath, neroli oil has a heavier animalic note and is musty. Neroli oil has an element of surprise, and I would say I'm boring in a way, but I'm not shallow. I think of neroli oil like that, too. It has this unexpectedness—I love using it, but I'm limited about the way I can use it in food.
PF+: Do you have any favorite ingredients to work with? Why?
MW: From an aromatic perspective, my absolute favorite ingredient is bis(methylthio)methane or truffle sulfide. It smells of black truffles, and it is actually the aroma that pigs sniff out when searching for truffles. This aroma dissipates and is why fresh truffles must be eaten in a few days. I love how exotic this ingredient is, as well as find the sensuous smell of black truffle delightful.
Slightly opposite of truffle sulfide, I also love working with beta-damascenone. This ingredient smells of damson, which has a distinctive, deep-plum characteristic. At low levels, it contributes to realism in berry and orchard fruit flavors. I also like to use it in tea flavors and bell pepper. beta-Damascenone offers a lot of interesting attributes to work with in flavor formulations.