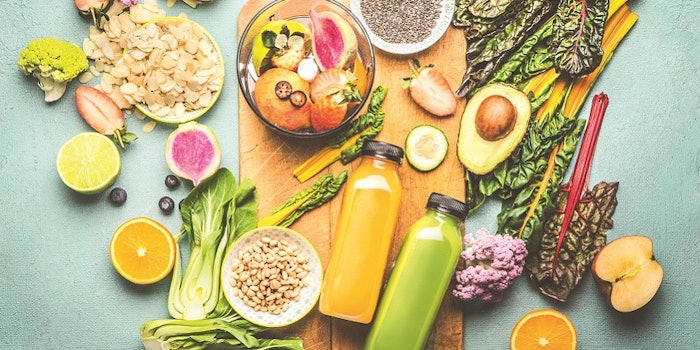 Mane
Le Bar-sur-Loup, France
2018 sales: €1,253 million / $1,480 million
Continuing its growth from 2017, Mane has posted consolidated sales of e1,253 million for 2018, an increase of 8.4% from previous year numbers. During the year, the company made a number of key investments to strengthen its beverage, confection, savory and seasoning businesses. The company acquired Kancor, which expanded its spices, oleoresins and extracts offerings. Additionally, it started a joint venture called Ethical Extracts that specializes in delivering sustainable and traceable coffee extracts and aromas for the beverage, food and cosmetic industries.
While Mane saw solid growth in 2018, it wasn't without challenges. In the year, a number of raw material crisis affected the company's supply of aroma chemicals for its perfumery business. The company utilized alternative syntheses to transform essential oils components into the ingredients in dire supply, despite price increases. To address the challenges facing its fragrance business, the company opened a fragrance development center in New Jersey in September 2018 and continued its investments in consumer insight.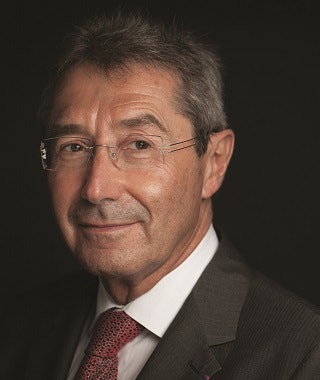 Jean M. Mane
President and CEO
Since last year, what has Mane done to maintain or raise its position on the leaderboard? What would you attribute to your success in 2018?
In 2018, Mane posted consolidated sales of e1,253 million, up 8.4% from 2017 ($1,479 million, +13.2%). Without the negative impact of exchange rates last year, our turnover in Euros would have progressed by 13.3%. Combined with the impressive top-line growth figures reported over the previous years, this performance shows that we have been able to wage through the challenges of the raw material crises of the last years and continue to place us among the fastest growing leaders of the fragrance and flavor industry. This performance was saddened by the loss of Maurice Mane in August, who still held the position of chairman of the supervisory board until his demise. He was a tenacious, courageous and respected leader, whose vision had given a new dimension to the company by promoting the diversification of its activities in flavors for the food industry and its international reach, a vision the fourth generation has been striving to pursue, embrace and improve since 1995.
The overall performance of the group continues to result from our uninterrupted investments to expand our reach and capabilities around the world, particularly in our R&D and production facilities. The addition of new talents to our teams to foster partnerships with selective customers who value our commitment to technology and innovation allows us to capture the demand for on-trend flavors and fragrances, created from more consciously and sustainably sourced ingredients. The new affiliates and facilities inaugurated this year are proof of our commitment to better serve our customers in the United States, India, the Andean region and expand our reach in East Africa, while our major investments currently under construction reiterate our commitments to the Chinese market.
After a very strong 2017 year for our flavors division, we have strengthened our positions at strategic partners and our successes in beverages, confectionery and seasonings. To consolidate our unique expertise and portfolio of Pure Capturea natural flavor solutions across segments, complemented by the establishment of our MANUFRI joint venture with Nufri—one of the biggest fruit processors in Europe—for the production of fruit compounds for beverages and the completion of our vertical integration in spices, oleoresins and extracts through the acquisition of Kancor, we have recently announced the conclusion of a new strategic partnership with Akbar Brothers, one of the largest traders of tea in the world. This new joint venture, called Ethical Extracts, is uniquely positioned to provide high-end tea and specialty coffee extracts and aromas to beverage, food and cosmetic sectors globally with 100% traceability and sustainability. With access to the world's best teas and most modern extraction technology at source, combined with Mane's 148 years of expertise in creating world class food and beverage solutions, this partnership shall foster the development of new and innovative natural beverage ingredients, in line with consumers' expectations for more natural experiences.
In addition, our consumer insight team has developed a research program on flavor and emotions. This innovative approach uses the principles of the psychology of cross-modal associations to design the emotional profiles of various flavors and bring added value for better product development and differentiation, in accordance with brand images and positioning. It was particularly useful from a vanilla ice-cream market review showing that, for a same liking score, consumers could associate different products to totally different emotional universes.
In terms of nutrition, consumers want healthier and nutritionally beneficial products. Our customers in the food industry are looking to reduce the sugar and salt content of their products. The challenge is to do this without drastically altering the taste consumers are used to. To this end, Mane has developed a range of products, Sense Captureb, to help its customers adapt to these behavioral changes and new consumer expectations. To ensure the result meets the taste expectations of consumers in terms of organoleptic quality, Mane offers natural Sense Capture solutions to decrease quantities of sugar and salt without changing the taste of the "lighter" products.
In savory as well, we are working every day from farm to fork to deliver trustful and tasty solutions that answer the growing demand for natural ingredients and full transparency. This approach has been applied to our spices sourcing initiatives, conducted under the leadership of our Kancor teams, and we have added new varieties to our range of concentrated vegetable juices through our sourcing partnerships, which give us direct access to information at every stage of the process, in line with our full traceability objective for our customers. Our snacks experts have focused on gaining insight about today's consumer expectations and trend discovery platforms, how the trend scouting is changing influenced by the internet and social media in a digitalized world and how the food and flavor industry has to adapt to these changes. For the first time this year, we will showcase our meat capabilities at IFFA. By addressing the requirements of the meat industry in a culinary way, Mane will share its outstanding expertise in creating the finest aromatic ingredients and tailor-made functional solutions for meat businesses, including our Sense Capture Protein solution to tackle the inclusion of vegetable proteins in meat products. We have also developed a full range of Sense Capture Mask solutions to formulate for flexitarian, vegetarian and/or vegan products adapted to typical soy, pea, wheat, oat, and algae off-flavors, to secure consumer acceptance, achieve the right taste, and the optimal flavor balance of the finished product.
2018 has been a challenging year for our fragrance division, due to the numerous raw material crises that have particularly affected the supply of aroma chemicals for the perfumery side of the business. This situation has triggered a complex domino effect on the availability and the price of many raw materials. Our high inventory policy, combined with our knowledge of alternative syntheses to transform essential oils components into the ingredients in dire supply were mobilized to overcome the shortages, even if price hikes could not be avoided.
Despite these challenges, the division performed strongly thanks to our strengthened collaboration with our strategic customers to create more value from our innovation, our creativity and our continuous investments in building our R&D capabilities, specifically including the grand opening of a brand new, state-of-the-art Fragrance Development Center located in Parsippany, northern New Jersey in September 2018. The 100,000 sq. ft. facility is home to Mane's commercial, creative and R&D teams in the United States. The expansive space is fully equipped with cutting-edge robotics, a 2,000 sq.ft. consumer insights testing center, sensory odor booths and extensive testing laboratories continuously replenished with 100% fresh air allowing for an odor-free fragrance creation environment. Growing our investments in consumer insight and leading our teams to design consumer preferred fragrances have enabled us to strengthen our strategic position with our major personal care partners and further sustain our successes in the fabric care and air care segments, particularly with our Freshplexc malodor solutions, which include proprietary molecules from our Fundamental Research programs. In line with the growing demand for natural fragrances, we strive to enlarge the palette of our perfumers through sustainably sourced iconic naturals and new ingredients that spark their creativity.
As Mane consolidates its position in the fine fragrance world, we were proud that Cécile Matton, whose creativity is nourished by the palette of Mane ingredients, from high-end, iconic naturals to Jungle Essenced extracts, was named "Perfumer of the Year 2018" by the editors of Cosmétique Mag.
Meanwhile, our ingredients division has been busy introducing a number of consciously sourced ingredients at the 2018 World Perfumery Congress (WPC) in Nice, including new botanicals, magnified iconic perfumery ingredients and rectified citrus oils thanks to our fractionation capabilities to cope with the furocoumarin concern.
Leveraging on our historical presence in Madagascar, and after reintroducing the cultivation of Bourbon vetiver several years ago, we have presented a superior quality of Bourbon geranium essential oil, chosen for its floral, aromatic and fresh notes, sourced under the supervision of Terres en Mêlées, an NGO, which promotes rugby among girls to give them a chance to pursue their studies abroad.
After premiering Timur pepper at the previous WPC edition, we continued to explore new spicy notes with our Forest Pepper Jungle Essence. This extract made from spicy-citrusy berries from Thailand, locally named Makwaen, unveiled a new kind of citrus notes with orange, pink pepper tonalities and aldehydic facets. We purchase the berries directly from the farmers in the villages through our local team, to ensure a full traceability of the geographic origin and support the local farmers, and process them in our Bar-sur-Loup headquarters.
Among the new botanicals presented, we featured our Four Corners Alcoholic Resinoid: this everlasting, liquorous, dried fruit scent brings fruity, sweet and balsamic tonalities. It is derived from a wild fruit from the tropical forest of Cameroon sourced with the collaboration of the AAFEBEN NGO, as part of a project for the preservation of the protected reserve of Dja and improvement of local communities' conditions.
In addition, for the first time, we presented to the industry two specialties created with a selection of our captive molecules: Bigaflower, designed with a high level of Bigaranee for its interesting soft green notes of petitgrain, this specialty exhibits a floral addictive note with comforting facets to deliver a delightful natural neroli scent; and driftwood, a radiant ambery scent with elegant facets reminiscent of white woods created with Ambramonef to add structure and style to fragrances.
Each year, we reinvest over 8% of our annual revenues in R&D, maintaining a high level of investment particularly in organic chemistry and biotechnology, as well as in the development of new natural actives through our Kancor team. Supporting fundamental research and optimizing processes for the production of aroma chemicals through our safety process laboratory, in line with the principles of Green Chemistry, enables us to enrich our capabilities for innovative fragrance and flavor solutions. This year, we commissioned a new chemistry plant in India with additional capacity which is key for the future of our captive molecules, and to enable us to "make our own" aroma chemicals in dire supply conditions further to the domino effect caused by the numerous raw material crises.
Our commitment to sustainable innovation also includes designing more eco-friendly chemical products and processes so as to reduce or eliminate the use of hazardous substances. In 2011, we designed our own assessment tool named Green Motiong based on the 12 principles of Green Chemistry introduced by P. Anastas and J. Warner. Green Motion rates the health, safety and environmental impact of manufactured ingredients for the flavor and fragrance industry on a 0 to 100 scale. The safer and the less impactful the process, the higher the rating. Green Motion has been widely implemented within our organization as a tool to design more eco-friendly flavors and fragrances and is gaining more awareness at our customers, who are placing it at the heart of their reflection about the environmental footprint of their products.
I am also proud to announce that, after being awarded the 2017 CSR Challenges Trophy for our environmental approach, we accepted the Top Sustainable Family Business award in 2018, which recognizes the efforts of the group towards sustainability and ethics, particularly the setup of a whistleblowing hotline in 2016 and the creation of a group ethics committee which reports to me.