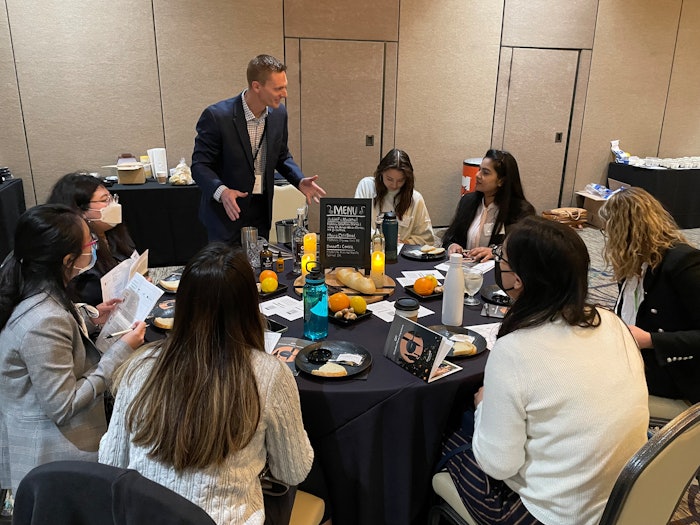 Last August, I attended my first-ever West Coast Flavor Industry Forum.
Unfortunately due to COVID, I was unable to get the full experience of the event in its prime. This year, the 22nd Annual West Coast Flavor Forum felt like a major win for the flavor industry in terms of reconnecting.
When I arrived on-site at the Delta Hotels in Anaheim, CA, I was met with a buzzing continental breakfast at the prompt start of 8:30 a.m. Silverware clinking and flavor professionals assembled into small groups filling the room with conversations covering recent life updates, future plans and what's on the day's agenda.
This year's event line-up includes 15 companies showcasing an array of products for experts to experience in various forms including Advanced Biotech, Almendra, Berje, Bontoux, Döhler, Excellentia, Givaudan Flavour Ingredients (GFI), Global Essence, IFF, Omega, Robertet, Synerzine, Treatt, and Ventos.
With the importance of safety and comfortability of attendees being of the utmost importance, each exhibitor went above and beyond with creative spreads for their sessions. 
For instance, personalized table settings at Givaudan Flavour Ingredients (GFI), complete with candles with faux flames. At one point in the session, Global Commercial Innovation director Jay Klosterman shakes up a cocktail and pours sips for attendees. Products highlighted during this session included CitraFresh orange 3x, CitraFresh lemon 3x, organic certified chef's grill oil, ginger African oleoresin and natural vanilla extract 1x.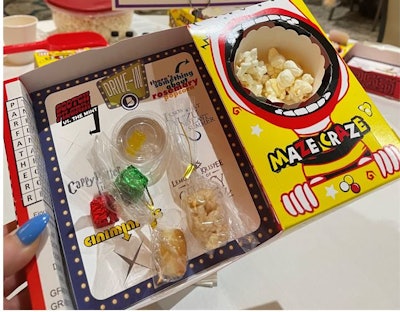 Speaking of an innovative presentation, Berje took attendees to the drive-in. Complete with a customized treat box, Berje showcased cinnamon bark oil, LemonEE*, scotch mint oil, yuzu oil, rosemary oil Tunisian and black pepper oil in finished applications with tongue-in-cheek movie references. 
Dohler, with boxes that included 12 samples for attendees to dip test strips, showcased products including cucumber essence premium, yellow peach essence, cold brew green tea infusion and Brazilian blend coffee distillate. 
Bontoux partnered with a chocolatier based out of New Jersey to create colorful bites to showcase products including coffee absolute, cinnamon bark absolute, peppermint fresh absolute and vanilla absolute.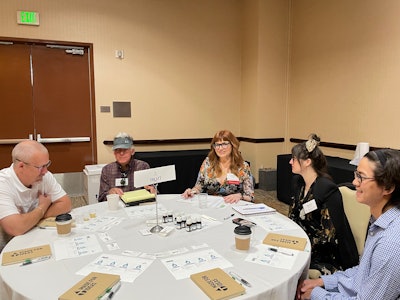 A go-to for a handful of tables were personalized placemats with prepared sips for attendees. One of which was Robertet, offering five products to be sipped, including cocoa extract, ginger spice blend, matcha tea extract and yerba mate absolute. Another was IFF, highlighting products in finished applications, including tropical power carbonated drink (orange peel butter FE (EU), gentian FE and ginger extract), as well as a Cola + Coffee/Espresso drink (coffee SE FR and coffee espresso intense (EU). Synerzine followed suit with a handful of products as well as Ventos with eight showcased products.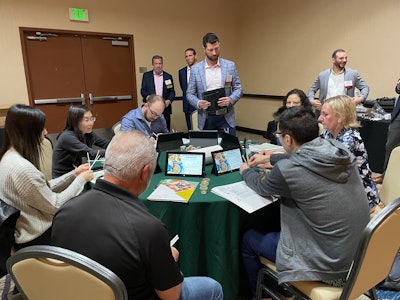 Both Advanced Biotech and Almendra equipped each attendee with their own smart device to scroll through the presentation while tasting a line-up of samples. 
Focusing on five coffee flavors, Omega Ingredients had sips previously steeped and ready to be poured for guests to enjoy with sponges. CEO Steve Pearce also pulled me aside to inform me that big things are on the horizon for Omega, and that the company will have some exciting news soon to be announced. Stay tuned.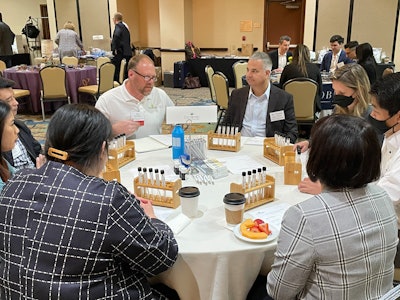 Some themes I witnessed throughout the day were expanding coffee profiles, a continued push for hard seltzer flavors and a nod to confection. A special thank you to NAFFS/CAS for hosting me, and to the 15 exhibitors who let me snap some photos along the way.
*LemonEE is a trademark of Berje.
Want to know everything going on in flavor & fragrance? Sign up for P&F+'s newsletter. You can also follow along on Instagram and LinkedIn.