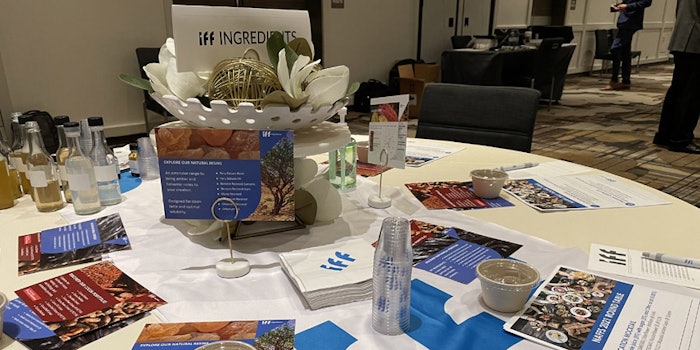 The 21st Annual CSA/NAFFS Industry Roundtable event, located in Anaheim, California, broke the nearly two-year hiatus of in-person flavor industry events due to the pandemic. Exhibitors and attendees alike safely gathered at the Marriott Anaheim Convention Center to sip, sniff and reconnect.
The NAFFS West Coast Industry Forum hosted eight 20-minute sessions for exhibitors to introduce new ingredients, enhancers and creations to flavorists from across the country. The five-minute breaks were dedicated to cleansing palates and catching up with fellow flavor experts in the flesh. I was able to squeeze in nine of the 12 exhibitors. All exhibitors in attendance included: Advanced Biotech, Almendra, Bell Flavors & Fragrances, Berje Inc., Bontoux, Inc., Flavor Materials International, Global Essence, IFF Ingredients, Oamic, Omega Ingredients, Robertet and Treatt. Here are some of the highlights from the event.
Creative Sampling
Each exhibitor reached into their bag of tricks to offer contactless or individualized sampling options for attendees. One of which was Berje, which transported guests to the Berje Bakery, offering five baked goods (pictured below) utilizing a component created by the company. Each attendee received their own box filled with a peppermint white chocolate cookie (peppermint oil Idaho and WS-3 aka menthol carboxamide), salted almond chocolate (almond oil bitter), Mexican chocolate pretzel (vanillyl butyl ether and cinnamon bark oil), pumpkin muffin (galangal root oil and organic nutmeg oil) and an orange meringue cookie (blood orange oil).
I sat down to an Alice in Wonderland-themed tea party with Omega (pictured below). The table was decorated with sponge cakes and a tea seat set to serve a peach tea infused with a variety of Omega ingredients. After sampling the tea, attendees were given blotters to smell with the individual kiiNote, including cardamom, mango, passionfruit, peach, saffron and turmeric to name a few.
Bell Flavors, Givaudan, Robertet and Treatt laid out cups with pre-poured samples allowing attendees to sip and follow along with each presentation.
Bell Flavors equipped each attendee with their own smart device to scroll through the presentation while tasting a control sample paired with a Bells enhanced creation. The testers included BellTech heliotropine extender, buchu extender/replacer, fenugreek extender/replacer butter esters and acids as well as a mouthfeel enhancer.
Givaudan introduced GFI (Givaudan Flavor Ingredients), a new sector dedicated to customizing ingredients for customers. Two of the four featured flavors were designed for seltzers—single-fold key lime and a single-fold natural key lime replacer. The two were joined by combinations incorporating each: including the yerba mate and single-fold key lime combination designed for punch modulation, as well as a mocktail combination with matcha and single-fold natural key lime replacer. More details to come on the new sector.
Treatt highlighted four infused liquids including blood orange assum tea (assam tea Treattarome, citric acid and blood orange primo 2.0 TreattClear), cocoa green pepper chipotle flavored water (cocoa Treattarome, green pepper Treattarome and chipotle Treattarome), passion lime flavored water (passion fruit Treattarome 9750, citric acid and lime oil fresco) as well as lavender oat milk latte with BHD3 coffee extract (coffee extract BHD3 and lavender Treattarome).
Excellentia International offered a lineup of nine blotters inserted in tubes for attendees to experience the difference between oil aromas: ginger oil Indian, ginger oil Chinese, ginger oil Chinese CO2, ginger oil fresh, hyssop oil pinoccamphone CT, hyssop oil organic, citral organic, eucalyptol organic, anethole organic and linalool organic.
Single Sips & Scents
With a heavy emphasis on products that could be utilized within seltzer applications, Bontoux showcased five sips: mandarin WS extract, honey alcoholate, sour cherry alcoholate, blackcherry alcoholate and a coconut infusion. Steering away from the common citrus seltzer flavors, Bontoux is introducing a fruity twist to the market.
IFF boasted a twelve-product line-up for its roundtable. Passing around a plethora of blotters and cups for attendees to experience each in various applications—from mocktails to juice and even granola. As a baker, my personal favorite was the vanilla bourbon 2X.
Trending Topics
A common thread between tables was the emphasis on modulating for citrus beverages, seltzer and mocktails. The market has seen a growing trend across all three categories and ingredient suppliers are responding as quickly as possible to consumer demand.
Another major component was utilizing QR codes for requesting samples. Attendees could quickly and easily request samples from exhibitors during and/or after the presentation based on their experience with the product rather than filling out a sheet. The use of QR codes has spiked due to the pandemic—touchless menus, direct access to websites, etc. Looks like this trend is here to stay.
Want to know everything going on in flavor & fragrance? Sign up for P&F+'s newsletter. You can also follow along on Instagram and LinkedIn.