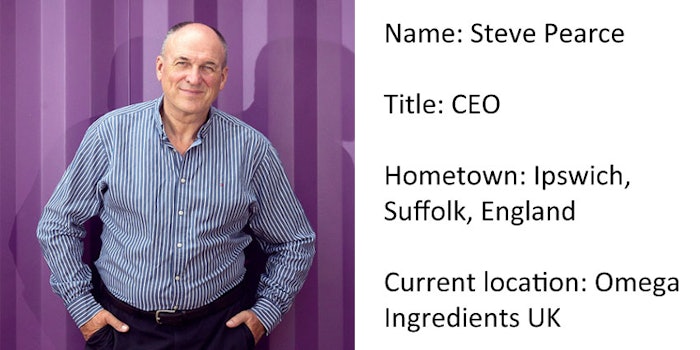 Perfumer & Flavorist+ [P&F+]: What led you to the flavor industry?
Steve Pearce [SP]: Having obtained a degree in applied biochemistry, I worked in a number of development and sales roles until, like many people I know in the industry, I discovered it by accident. However, I have had a life-long fascination with the sense of smell and taste, so finding a company that worked in this way was a dream come true. Since then, I have had a variety of exciting roles, starting as technical manager and learning mint distillation, being the first to introduce audited and certified quality management systems into the industry, using biotechnology to produce novel ingredients, from creation to production and finally, in my own company, Omega Ingredients, as CEO.
P&F+: What applications do you primarily formulate for? Do you have a favorite?
SP: Beverages (alcoholic and non-alcoholic), dairy products, confectionery, bakery, savory (plant-based). As for a favorite—non-alcoholic beverages, especially in the low and no-alcohol category.
P&F+: Are there any recent projects/wins you're particularly proud of?
SP: The work we have done in developing new ingredients to allow creation of sophisticated, premium, adult non-alcoholic beverages as alternatives to traditional alcohol-containing drinks, has been a challenging and rewarding journey…and we are not finished yet.
P&F+: Describe yourself in three ingredients.
SP: Benzaldehyde, 2-methyl-4-propyl-1,3-oxathiane, styrallyl acetate.
P&F+: Do you have any advice for people coming into the perfume/flavor field?
SP: It is a wonderfully fascinating and creative industry, so take every opportunity to immerse yourself in it and talk with your more experienced colleagues, especially those that have stories to tell. You will never stop learning. Despite the length of time I have been in the industry, I still learn something new from it every day!
P&F+: How has the job of flavorist changed during your career?
SP: Undoubtedly, it has changed considerably. We work closely with customers than we used to, with a regular presence on-site and in the lab at every opportunity. The speed at which the work is expected now is also accelerated. When I started back in the early 1980s, communication was by letter, maybe telex or perhaps fax, if you had one. Now, it is an e-mail avalanche every day, which, combined with the cell phone we all carry, means we can't get away from it.
The presence of the internet in every pocket also means that, potentially, every customer can become a bit of an expert in "our" sophisticated area of expertise, which can make conversations with customers interesting and occasionally awkward.
P&F+: Are the types of projects you're working on changing over time? How are the creative demands of the job evolving?
SP: The industry is driven by trends and developments in technology. The removal of preservatives and sweeteners from food products while maintaining the shelf life and taste, together with demands for healthy eating by reducing sugars and alcohol, all add to the demand for cleaner label products and better performing ingredients. We now require flavors that will contribute more than simply flavor alone; they need to mask bitterness, improve mouthfeel, imitate the effect of alcohol in the mouth and increase the perception of sweetness. Flavors also need to have traceability and provenance of components while being organically compliant, kosher, halal and work in vegan, plant-based products. All requirements from the consumer that have appeared during my time in the industry.
P&F+: What is the best part of your job?
SP: Naturally, I love solving problems and helping customers create winning products by improving taste for the consumer and thus the success of the food or beverage. Being in a position to create or discover a new taste or ingredient that will improve aroma or flavor is always exciting. But as someone with their own company and as CEO, being able to offer opportunities to young people to grow and develop a career in this fantastic industry and see them blossom and enjoy it, that's very rewarding, too!
I have to also say, that being asked to create the "Flavour of Europe" for the EFFA Flavour Day in 2021 is, quite simply, an awesome honor and a privilege. One that has brought me into closer contact with brilliant flavorists across Europe and I hope has assisted in demonstrating that the teamwork and sharing of knowledge and know-how across our industry makes better, safer flavors and more nutritionally beneficial food and beverage products.
We are "Better Together."
Want to know everything going on in flavor & fragrance? Sign up for P&F+'s newsletter. You can also follow along on Instagram and LinkedIn.